Johnny's Story: Death by Dabbing with Laura Stack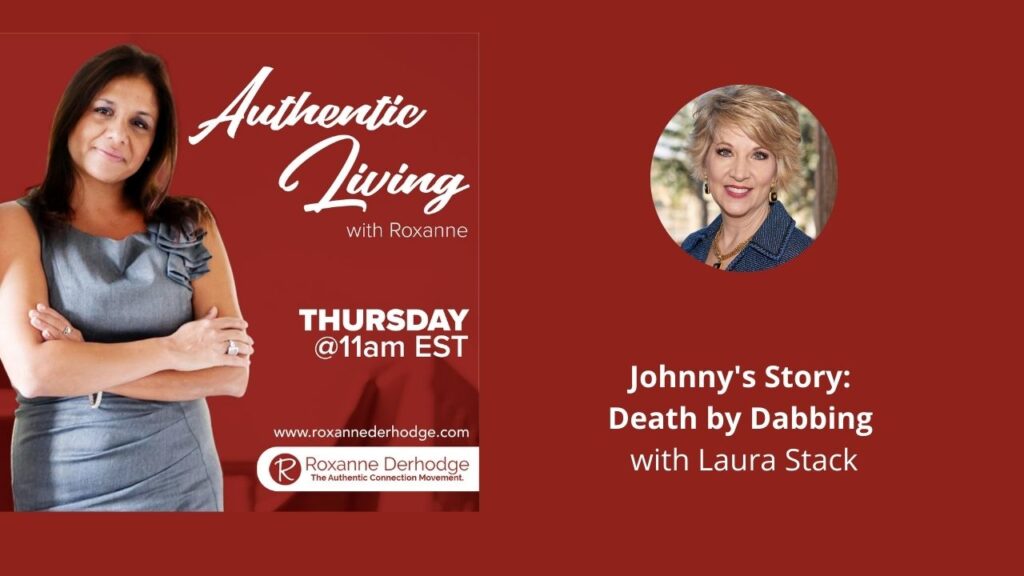 Quote: "Look at the new marijuana, just go and Google marijuana dabs and look at the products! It's completely chemical, highly potent, very addicting." Laura Stack
Marijuana has been legalized in several parts of the world, and much of the negative stigma has disappeared. We see doctors prescribing it for the medical benefits of pain control in place of opiates and NSAIDs, managing nausea, giving relief from tremors and many other medical issues. On this episode of Authentic Living with Roxanne, we are talking with Laura Stack, who suffered the loss of her son Johnny to suicide, which has been attributed to his use of highly potent THC distillates.
Laura was best known in the business world for her professional moniker, The Productivity Pro. Her 30-year career as a keynote speaker, bestselling author of eight productivity books, and corporate spokesperson came to a screeching halt on November 20, 2019, when her 19-year-old son, Johnny, died by suicide after becoming psychotic from dabbing high-THC marijuana concentrates. Laura responded by forming the non-profit, Johnny's Ambassadors to educate parents and teens about the dangers of today's high-THC marijuana on adolescent brain development, mental illness, and suicide. 
Listen to the podcast here: Johnny's Story: Death by Dabbing with Laura Stack
Authentic Touch Points:
What is dabbing? 2:30
It's not your parent's pot. 5:30
Cannabis-induced psychosis. 10:00
Talk to your teen. 12:30
Education is key. 16:30
Start the conversation early. 20:00
Treatment options available. 23:00
Laura's platform now brings education, awareness, and prevention curriculum to parents, drug prevention conferences, community groups, and schools to stop youth marijuana use. She is a powerful speaker who brings Johnny's personal warning and solid research together in her new book, The Dangerous Truth About Today's Marijuana: Johnny Stack's Life and Death Story. Described as a force of nature with unstoppable drive and unwavering purpose, Laura is determined to get teens to #StopDabbing.
As we move toward reopening workspaces and gathering again, I encourage leaders to reach out for guidance about presenting their authentic self to develop an improved workplace for everyone with less conflict through executive coaching. Click here to contact me at your convenience, or click here to Chat with Roxanne!
Stay Authentic,
Roxanne
Links:
Johnny's Ambassadors
Laura's email: Laura@JohnnysAmbassadors.org
Laura's LinkedIn profile
Roxanne's LinkedIn profile
Roxanne's email: roxanne@roxannederhodge.com