How to Find the Secret Gift of Introverts with Jon Baker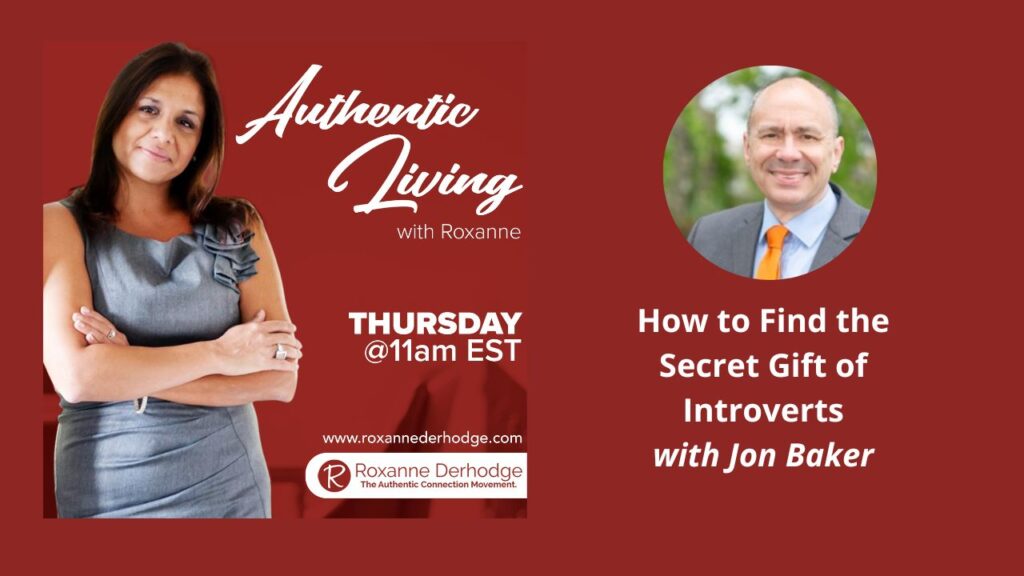 Quote: "Can introverts sell? Yes, because they're very good at listening and asking all the right questions."Jon Baker
Are you an introvert or an extrovert? Is that something you have even thought about? Are you comfortable speaking out in a group setting, or do you take more time to ponder a question and analyze the outcome before speaking out? On this episode of Authentic Living with Roxanne, we welcome all the way from across the pond, Introvert Expert Jon Baker to share his insight about introverts and some easy-to-implement techniques for leaders on how to bring the best out of them in the business world.
Driven by his desire to expose the talent of quieter business people, Jon Baker has become known for activating introverts. With his quietly confident attitude to challenges and vision of balanced teams, alongside his enthusiasm for action and helping others, Jon inspires business leaders to take action.
Watch the podcast:
Listen to the podcast:
Authentic Touch Points:
Why Jon chose to research introverts. 1:30
Peeling back the layers. 5:00
Processing and getting to the final result. 9:00
Can introverts be successful CEOs? 13:00
Creating the space for introverts to speak up. 18:00
Be patient and wait for the answer. 21:00
Techniques to optimize productivity. 25:00
Preparation is key. 29:00
Jon knows that balanced teams allow introverts and extroverts to flourish individually and as a team, improving productivity, creativity and diversity of thought. His business growth and networking knowledge (has written two books on the subjects), combined with leadership experience, allows Jon to show leaders how to change their habits and get more from their introverts.
As I offer executive coaching, I encourage leaders to reach out for guidance about presenting their authentic selves to develop an improved workplace for everyone with less conflict. Click here to contact me at your convenience, or click here to Chat with Roxanne!
Take our online quiz to rate your authenticity as a leader!
Stay Authentic,
Roxanne
Links:
Jon's Website
Books: Canada US
Jon's LinkedIn profile
Email: jon@jon-baker.me
Roxanne's LinkedIn profile
Roxanne's email: roxanne@roxannederhodge.com
Chat with Roxanne
Roxanne's previous podcasts