Motivating Teams with Authentic Leadership with Dr. David Miles (Part II)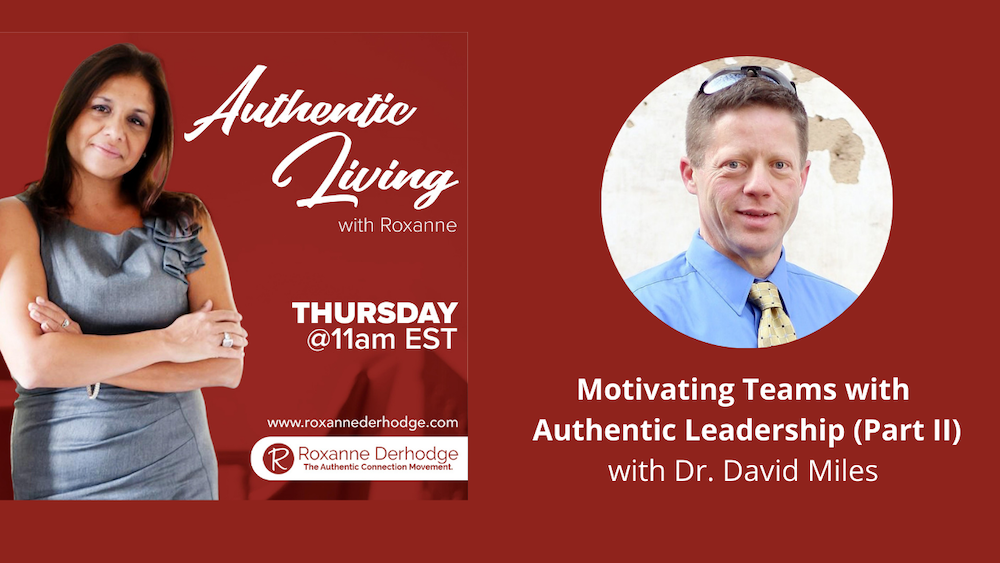 Quote: "How do I figure out ways to help increase engagement, reduce turnover and make a better workplace to help leaders create amazing teams?" Dr. David Miles
Looking at the last year and a half, we see how the pandemic has affected businesses and teams. Remote work has been the norm for many, and we are reaching the point where some will be returning to the office. How did leaders fare while their teams were working remotely? How can we make that transition easier for those who are used to working from home?
On this episode of Authentic Living with Roxanne, we are thrilled to welcome Human Resources Expert, Dr. David Miles to share his thoughts on how to help leaders create connection to increase productivity and enhance engagement throughout their teams.
He gave us so much great information that we are splitting this into two episodes, so happy you tuned back in for Part II. If you missed Part I, CLICK HERE to listen.
David is a leadership author, experienced trainer, and professional speaker who is passionate about developing people at all levels of an organization from executives and management to professionals and staff. Dr. Dave holds a Doctor of Philosophy degree in Organizational Leadership with a concentration in Human Resource Development. His research compared the learning style of adult learners to their effectiveness as leaders.
Listen to the podcast here:
Motivating Teams with Authentic Leadership (Part II)with Dr. David Miles 
Authentic Touch Points:
Channels of communication are essential. 2:30
Integrating teams back to the office. 5:00
Keeping the lines of communication open. 13:00
How your stress can affect the team. 19:15
The boundaries between work and home are blurred. 23:00
Finding your work/life balance. 25:15
David has conducted training and presented professionally across the United States at numerous different venues, events, and conferences and has had the privilege of speaking by invitation on the topics of leadership and human resource development in both Oxford, UK on multiple occasions and in Singapore. He is also a Professional Member of the National Speakers Association (NSA), a Board member of the local NSA-DC chapter; a John Maxwell Certified Speaker, Coach, and Trainer; a Certified Stakeholder-Centered Executive Coach through Dr. Marshall Goldsmith, and certified in multiple behavioural assessment suites through TTI Success Insights.
Dave is the President of the Winchester Toastmasters Club, former Area Director for Toastmasters District 18, and is President of the Winchester Area chapter of Society for Human Resource Management (SHRM).
With many of us working from home and feeling the pressure of the pandemic, I encourage you to reach out with thoughts or questions about your own self-awareness and creating a healthier mindset through connection.
I have created a new live coaching program to help you Create Healthier and More Authentic Relationships in your life and get more connected to your authentic self. Click here to contact me at your convenience or click here to book a complimentary call with me.
Stay Authentic,
Roxanne
Links:
David's website
Visit David's website for your FREE Reboarding Guide
Roxanne's email: roxanne@roxannederhodge.com
Book a complementary Call with Roxanne
Roxanne's previous podcasts