Sticky Learning that Creates Authentic Change with Darren Smith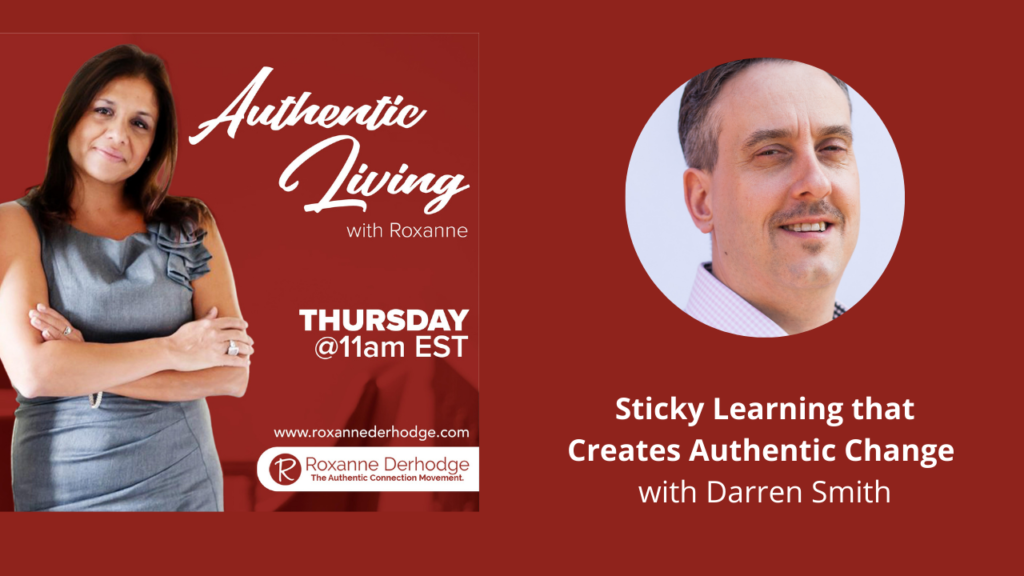 Quote: "We're going to forget this stuff unless we use it, within 6 days, 2 weeks, 30 days…the research changes. But the important thing is we do forget it unless we use it and keep using it." Darren Smith
How have we been learning? Have you ever taken a course and felt fantastic after and thought, wow…this is going to make a difference only to find that nothing changes or improves?  On this episode of Authentic Living with Roxanne we welcome (from all the way across the pond) Darren Smith who will share some great insight about how we need to take a look at a better way to learn and how we can ensure that we implement and utilize the knowledge after a training session.
Darren has been working in the world of UK Supermarkets & Suppliers for over 30 years. He began his career as a buyer at big 4 UK supermarket (as an Assistant Cottage Cheese Buyer) and after 13 years he decided to leave to set-up Making Business Matter because he saw the opportunity to enable supermarkets and suppliers to work better together.  He founded MBM and has spent the last 14 years working with suppliers on People Development to enable them to get the best from their people with their retail accounts through Sticky Learning ®.
Listen to the podcast here:
Authentic Touch Points:
Darren's journey from Assistant Cottage Cheese Buyer to Trainer.  2:15
Creating connection for the buyer.  4:15
Small bites are better than one big one.  7:30
Micro vs macro learning.  11:30
What companies need right now.  17:00
Creating separation between home and office.  21:00
Connection at the water cooler vs Zoom.  25:00
Online communication is so much harder.  28:00
Talking is essential to connection.  31:30
Darren has a love for human behaviour and helping people to become the best version of themselves. MBM claims to have the stickiest learning in the world. When he's not working, you'll find him living in Thame with his wife, Gayle, and children, Gabby and Jack, creating memorable experiences because he believes 'life is for the taking'.
With many of us working from home and feeling the pressure of the pandemic, I encourage you to reach out with thoughts or questions about creating a healthier mindset.
I have created a new live coaching program to help you Create Healthier and More Authentic Relationships in your life.  Click here to contact me at your convenience or click here to book a complimentary call with me.  
Stay Authentic,
Roxanne
Links:
Darren's website
Darren's Free Stuff
Roxanne's NEW Create Authentic Relationships course
Roxanne's email:  roxanne@roxannederhodge.com
Book a complementary Call with Roxanne
Roxanne's previous podcasts