The Keys to Mental Resilience with Shahab Anari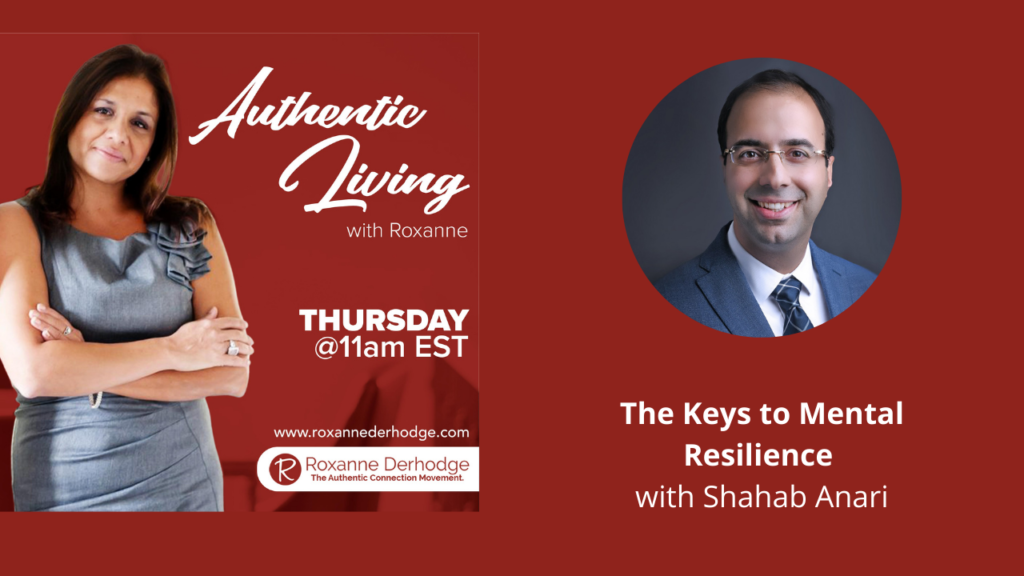 I think at one time or another, we all have setbacks in trying to keep up a positive and resilient mindset. Especially now after dealing with COVID for so long and another wave hitting and causing more setbacks. On this episode of Authentic Living with Roxanne, we welcome speaker and trainer, Shahab Anari to share some of his best tips on staying mentally resilient.
Shahab Anari, MD is an international speaker and author on resilience and personal branding. He is a living example of mental toughness himself. Although he was categorized as 'non-gifted' as a kid, he came first among more than one million contenders in the fierce nation-wide University Entrance Exam in his country of birth in 1997.
Listen to the podcast here:
Authentic Touch Points:
The path from physician to speaker/trainer. 3:30
Searching for a better life. 8:20
Creating a resilient mindset. 10:30
Finding a new perspective. 15:00
Cultural differences and limiting beliefs. 18:30
Overcoming blocks in mindset. 24:00
Tips to becoming more resilient. 28:45
Shahab trained as a medical doctor, but he was not passionate about medicine as a career. So, after graduation, he made the big transition to become a speaker/trainer, now having served people in 19 different countries. Although he had a very difficult first couple of years after immigrating to Canada, he was recognized as one of the Top 25 Canadian Immigrants in 2020. Shahab is also the founder of North Star Success, a world-class Personal Branding Agency in Toronto.
With many of us working from home and feeling the pressure of the pandemic, I encourage you to reach out with thoughts or questions about creating a healthier mindset. Click here to contact me at your convenience or click here to book a complementary call with me.
You can find more information about me and how I can help you live a more authentic and resilient life at RoxanneDerhodge.com
Thank you,
Roxanne
Links:
Shahab's websites:
Personal website: https://shahab.website
Company website: https://northstarsuccess.com
Roxanne's email: roxanne@roxannederhodge.com
Book a complementary call with Roxanne
Roxanne's previous podcasts