Parenting and Leadership Through COVID Both Require Resilience with Kristin MacDermott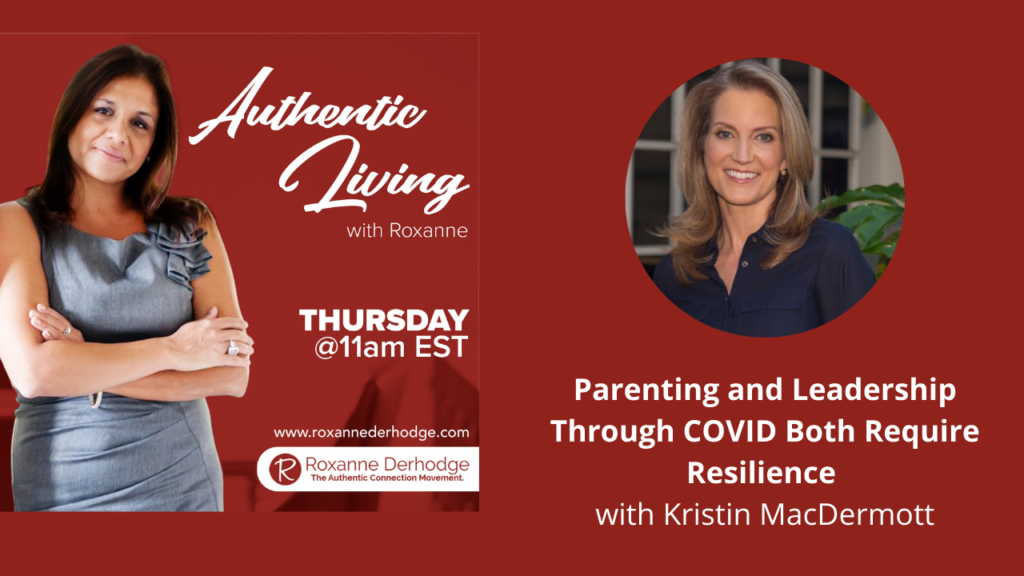 Quote: "The root of most interpersonal conflict is unmet needs." Kristin MacDermott
We are looking at 2020 in our rear-view mirror, but we're still in the thick of COVID. With lockdowns, social distancing, virtual work and online schooling, some of us are experiencing higher levels of stress and finding both parenting and leadership challenging. On this episode of Authentic Living with Roxanne, we welcome Marriage and Family Therapist, Kristin MacDermott to share some of her ideas about how resilience can help to improve relationships with your kids, spouse, family and team members.
Kristin is a licensed marriage and family therapist with a decade of research in resilience. Her resilience-training programs have been validated in four studies with researchers from the Duke Clinical Research Institute, published in peer-reviewed journals, and proven to improve key mental health and resilience outcomes, including anxiety, depression, distress, self-efficacy, and PTSD. Kristin has designed resilience-training programs for some of the highest-performing people on the planet, including Navy SEALS and the LAPD. Her programs have been used in more than 20 hospitals across the country, including at the Duke Cancer Institute and the National Institutes of Health. She has also designed programs for school, corporations, and non-profits that support at-risk kids.
Listen to the podcast here:
Authentic Touch Points:
Scale it down to make it accessible. 2:00
Unplug to find your inner wisdom. 6:00
Use resilience to build relationships. 10:30
Have meaningful conversations. 15:00
Teach your kids responsibility early. 20:15
Resiliency strategies for parenting. 25:30
COVID is affecting everyone! 30:00
Ask what others' need. 33:00
Kristin is the author of It Takes Two Minutes to Shift Your Mindset and Build Resilience, a book that breaks resilience down into bite-size skills you can apply to your life immediately. She has recently launched two online courses for parents, one called Resilience-Based Parenting and the other called Parenting Through Divorce. She has a private practice in Palm Beach Gardens, Florida where she lives with her husband of 28 years and her three children.
With many of us working from home and feeling the pressure of the pandemic, I encourage you to reach out with thoughts or questions about creating a healthier mindset. Click here to contact me at your convenience or click here to book a complementary call with me.
You can find more information about me and how I can help you live a more authentic and resilient life at RoxanneDerhodge.com
Thank you,
Roxanne
Links:
Kristin's website: https://www.macdermottmethod.com/
Kristin's Special Offer and Free Resources
Kristin's Resilience-Based Parenting: https://www.macdermottmethod.com/parents
Kristin's Parenting Through Divorce: https://www.macdermottmethod.com/divorcing-families
Kristin's books:
It Takes Two Minutes Canada
It Takes Two Minutes USA
Two Minute Mindset Shifts Canada
Two Minute Mindset Shifts USA
Roxanne's email: roxanne@roxannederhodge.com
Book a complementary call with Roxanne
Roxanne's previous podcasts