Tap into Your Heart and Turn Lemons into Lemonade with Peter Katz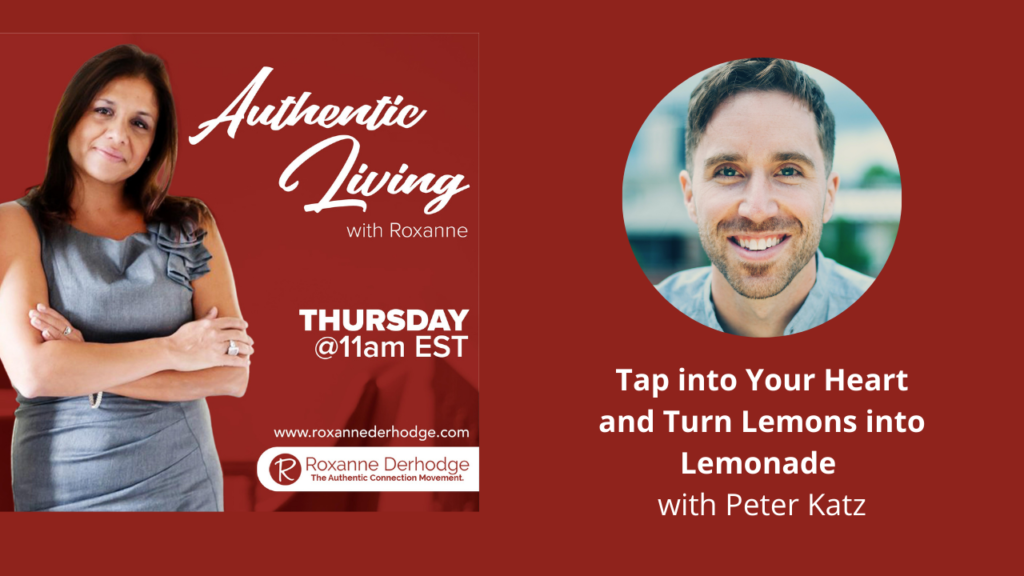 Living through a global pandemic in modern times is unprecedented and no one is really sure how to navigate all that's happening. With 24-hour newsfeeds and social media, we need to exercise our resiliency muscles more now than ever! On this episode of Authentic Living with Roxanne, we are thrilled to welcome singer, songwriter and speaker, Peter Katz to talk about finding his resiliency and the pivot he made when his calendar was wiped clean.
Peter is a JUNO Award & Canadian Screen Award-nominated singer-songwriter as well as one of Canada's most in-demand keynote speakers. For the past decade, he has toured the world in support of his music, sharing the stage and studio with legendary musicians like Academy Award winner and Grammy nominee Glen Hansard, and Garth Hudson from The Band.
Listen to the podcast here:
Authentic Touch Points:
Peter's path from music to speaking. 2:30
In the right place at the right time. 10:00
Staying connected through COVID. 15:00
Self-care and support systems are necessary. 23:00
Cultivating lifelines with vulnerability. 28:30
Peter's COVID pivot. 39:00
Peter's music has been streamed over 4.5 million times, his music videos have over 16 million views on YouTube, and his songs have been featured on countless TV shows and movies including the 2016 Rio Olympics/Paralympics. A gifted storyteller and a four-time TEDx fellow, Peter uses his work to inspire people to create their own path, overcome obstacles, and find success in whatever they desire.
With many of us working from home and feeling the pressure of the pandemic, I encourage you to reach out with thoughts or questions about creating a healthier mindset. Click here to contact me at your convenience or click here to book a complementary call with me.
You can find more information about me and how I can help you live a more authentic and resilient life at RoxanneDerhodge.com
Thank you,
Roxanne
Links:
Peter's website https://www.peterkatz.com
Peter's email: hellopeter@peterkatz.com
Peter's new song, Paper Thin
Roxanne's email: roxanne@roxannederhodge.com
Book a complementary call with Roxanne
Roxanne's previous podcasts