Seeking Trust in Leadership Through Music Part 2 with Miha Pogacnik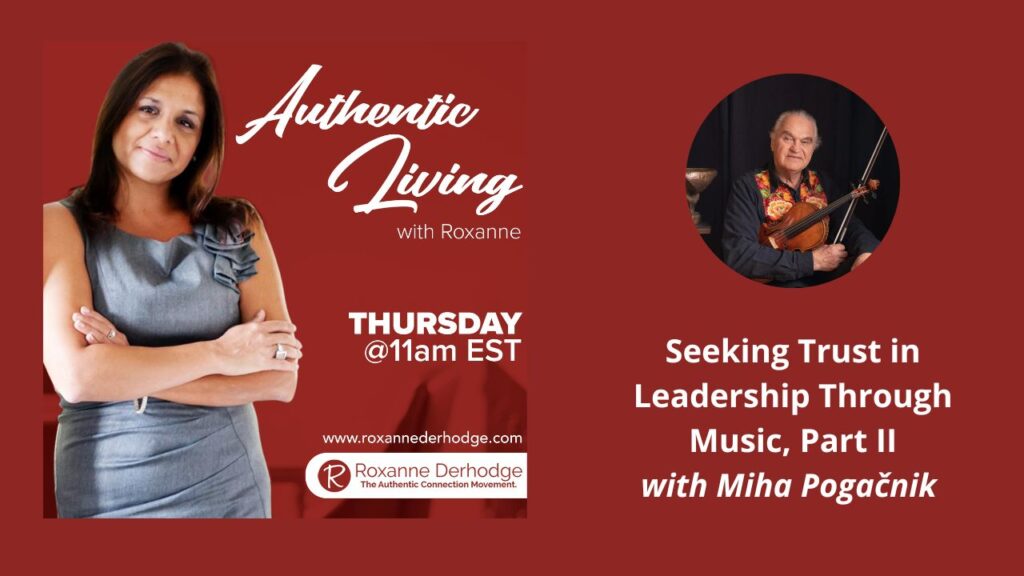 Quote: "It's important to know that when you are really connected with what you want to do, you are in another sphere of life. You are in your highest possible expression which fills you with a special kind of joy and purpose." Miha Pogačnik
If you are able, we recommend that you watch the video on our website or YouTube as there are graphic elements that you don't want to miss. If you can only listen, you will still get a lot of very useful information.
This was such a great interview packed with so much inspirational information that we decided to turn it into a 2-part series. Here's the link to Seeking Trust in Leadership Through Music Part I
Music means so much to so many. It has the power to lift us up, create a feeling, relive a memory, inspire, and so much more. But have you ever used music as a business tool? On this episode of Authentic Living with Roxanne, we welcome Social "Artivist" Miha Pogačnik to share his ideas and processes to find trust in leadership through music and the arts.
Violin virtuoso Miha Pogačnik (Po-gah-chnik) is a Cultural Entrepreneur and Ambassador of Culture of the Republic of Slovenia. He is perhaps best known for using his violin in organic and disruptive ways to reposition the impact of the Arts in society and connect Disciplines, Cultures and Generations. At the crossroads of Economy, Politics and Culture, he is the founder of Ecoculture, NGO Gandin Foundation and IDRIART. With his initiative Terra Parzival in his homeland Slovenia, he envisions a new prototype of society with Social Art at its core.
Click below to watch the video: Seeking Trust in Leadership Through Music Part II with Miha Pogačnik
Click below to listen to the podcast: Seeking Trust in Leadership Through Music Part II with Miha Pogačnik
Authentic Touch Points:
A deep experience. 3:00
The process. 7:45
Modulation for growth. 12:30
Finding the gateway to produce change. 16:30
Now transformation comes naturally. 20:00
The 5 steps. 25:00
Organic principle. 27:00
Touching the corporate heart. 32:00
In the late 90s, Miha founded Ecoculture and introduced his new process, the Miha Method, into the Business Innovation landscape and later in Politics. Trusting the integrity of classical masterpieces, Miha treats them in entirely new ways inducing co-creation and the Entrepreneurial spirit in organization development. His core vision is to awaken the artistic principle in every human being while addressing structural and systemic problems in society. An unparalleled influencer Miha tackles dilemmas regarding performance, motivation and inspiration.
As I offer executive coaching, I encourage leaders to reach out for guidance about presenting their authentic selves to develop an improved workplace for everyone with less conflict.  Click here to contact me at your convenience, or click here to Chat with Roxanne!
Take our online quiz to rate your authenticity as a leader!
Stay Authentic,
Roxanne
Links:
Miha's website
Miha's LinkedIn profile
Roxanne's LinkedIn profile
Roxanne's email: roxanne@roxannederhodge.com
Chat with Roxanne
Roxanne's previous podcasts