The Impact of a Lack of Inclusion in our Society with Dr. Rehman Abdulrehman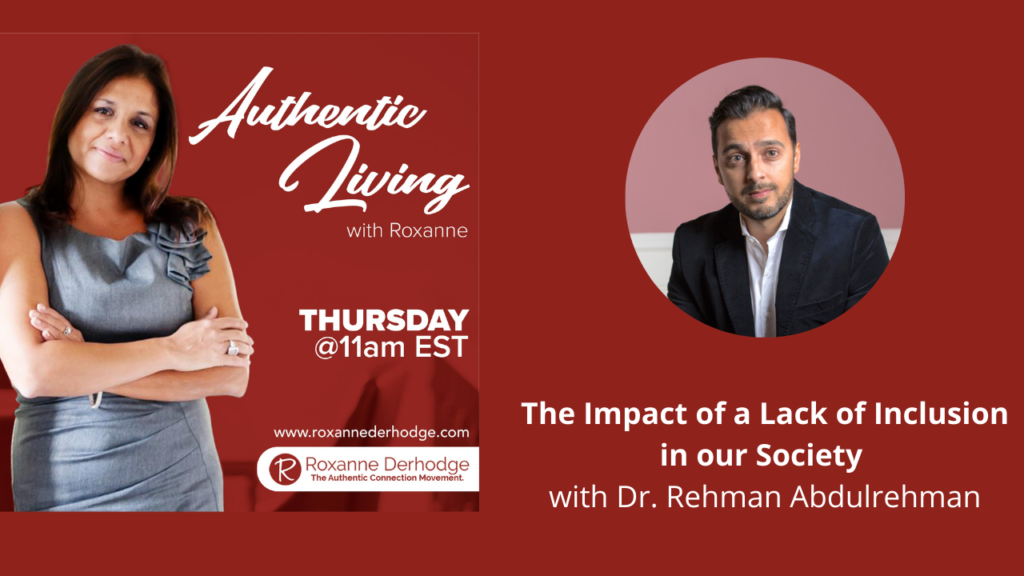 Have you ever felt marginalized for being different? Maybe you're a person of colour, over or under weight, female, have a disability…the list really does go on and on. On this episode of Authentic Living with Roxanne, we are fortunate to welcome an expert on the topic of Diversity and Inclusion, Dr. Rehman Abdulrehman. Dr. Abdulrehman is joining us to share his insight on how we can create a better workplace and in turn a better world. It all starts by having a difficult conversation.
Dr. Rehman Abdulrehman is a clinical and consulting psychologist with a unique and well-honed ability to harness the application of psychology to help catalyze insight-oriented change. A Canadian of Zanzibari descent, he draws on his extensive professional expertise as a consulting and clinical psychologist – and his life as an immigrant from an ethnic, cultural and religious minority – to illustrate the necessary concepts and actions for lasting change. In addition to speaking, he coaches, consults and delivers compelling experiential learning events, all designed to create a bridge of understanding and compassion across common human experiences and activate potent human transformation.
Listen to the podcast here:
Authentic Touch Points:
Why Dr. Abdulrehman got into diversity consulting. 2:30
How some senior leaders approach inclusion. 7:00
Slapping a band-aid on a gushing wound. 9:00
Kids aren't born seeing colour. 12:30
What's in a name? 17:30
Making the shift from unconscious bias. 21:30
How D & I can impact mental health in the workplace. 29:15
The problem with NOT seeing colour. 36:00
With well over 15 years of experience in the innovative application of psychology to develop creative yet practical solutions to dilemmas that arise in addressing diversity and inclusion, Dr. Abdulrehman has worked with a broad range of organizations including the CBC, the RCMP, the Mastercard Foundation, Kaplan, the Government of Canada, is a subject matter specialist for Google/YouTube on unconscious bias, and is a member of the Conference Board of Canada's Council of Inclusive Work Environments. He is also an assistant professor at the University of Manitoba, has been a visiting professor at the State University of Zanzibar, Zanzibar University and Muhimbili University over the past decade, and was a TEDx speaker on the topic of "Resolving Unconscious Bias". He is also a lover of cakes, bakeries, and is the Robin to a 7-year-old Batman.
With many of us working from home and feeling the pressure of the pandemic and the upcoming holiday season, I encourage you to reach out with thoughts or questions about creating a healthier mindset. Click here to contact me at your convenience or click here to book a complementary call with me.
You can find more information about me and how I can help you live a more authentic and resilient life at RoxanneDerhodge.com
Thank you,
Roxanne
Links:
Dr. Abdulrehman's website
Dr. Abdulrehman's TEDx Talk
Dr. Abdulrehman's podcast
Roxanne's email: roxanne@roxannederhodge.com
Book a complementary call with Roxanne
Roxanne's previous podcasts