ROR: Return On Relationships…The Book Launch with Roxanne Derhodge & Special Guests

Quote: "What we want to do is just maximize our capacity to connect on a human level." Roxanne Derhodge
It's been a long time in the making, but we have finally launched Roxanne's latest book, ROR: Return On Relationships! We celebrated her online book launch this week, and it went very well.  
We were fortunate enough to have the amazing Kristin Engvig help us moderate the event, and she did a wonderful job of keeping everything moving forward. Kristin is a pioneer and thought leader in the field of creativity, feminine and authentic leadership. She embraces global responsibility through innovative leadership events and personal speaking engagements.
We also had a fantastic mix of very special guests to help add some variety and differing opinions to keep it interesting. The panellists included: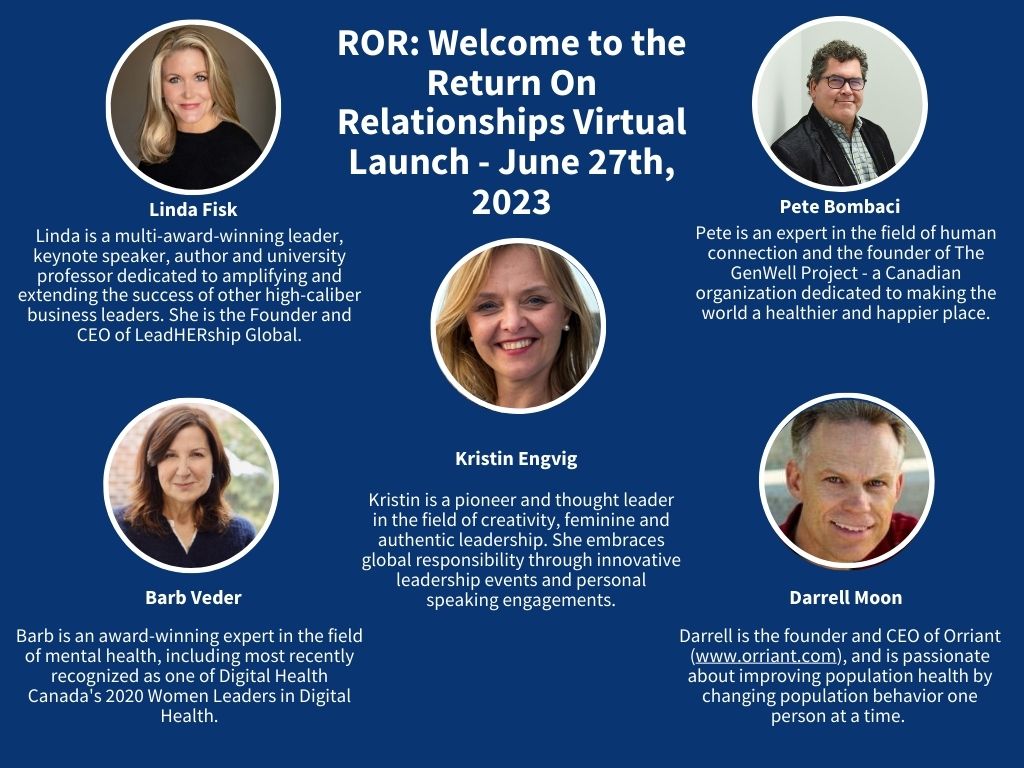 Watch the video here: ROR: Return On Relationships Book Launch
Listen to the podcast here: ROR: Return On Relationships Book Launch
Authentic Touch Points:
Intro and housekeeping. 1:00
Dedication of ROR to Roxanne's father, read by her son RJ. 2:45
A bit about Roxanne. 5:30
The intention behind ROR. 6:45
Q & A for Roxanne. 24:00
Meet the esteemed panel. 30:00
Q & A for the panel. 48:00
The Giveaways. 55:00
Final thoughts and a huge THANK YOU! 58:00
Roxanne would like to thank you for all of your support throughout the entire book-writing process and invite you to get your copy of ROR: Return On Relationships (if you haven't already). CLICK HERE to get your e-copy today for only $1.99! 
We encourage leaders to reach out for guidance about presenting their authentic selves to develop an improved workplace for everyone with less conflict, as Roxanne offers executive coaching.  Visit https://roxannederhodge.com/chat/ to schedule your complimentary discovery call now.
Stay Authentic,
Roxanne
Links:
Purchase Roxanne's Book: ROR: Return On Relationships
Roxanne's LinkedIn profile
Roxanne's email: roxanne@roxannederhodge.com  
Kristin's website
Kristin's LinkedIn profile
Barb's LinkedIn profile
Pete's website
Pete's LinkedIn profile
Linda's website
Linda's LinkedIn profile
Darrell's website
Darrell's LinkedIn profile