Women in Leadership & International Networking with Kristin Engvig (Part 1)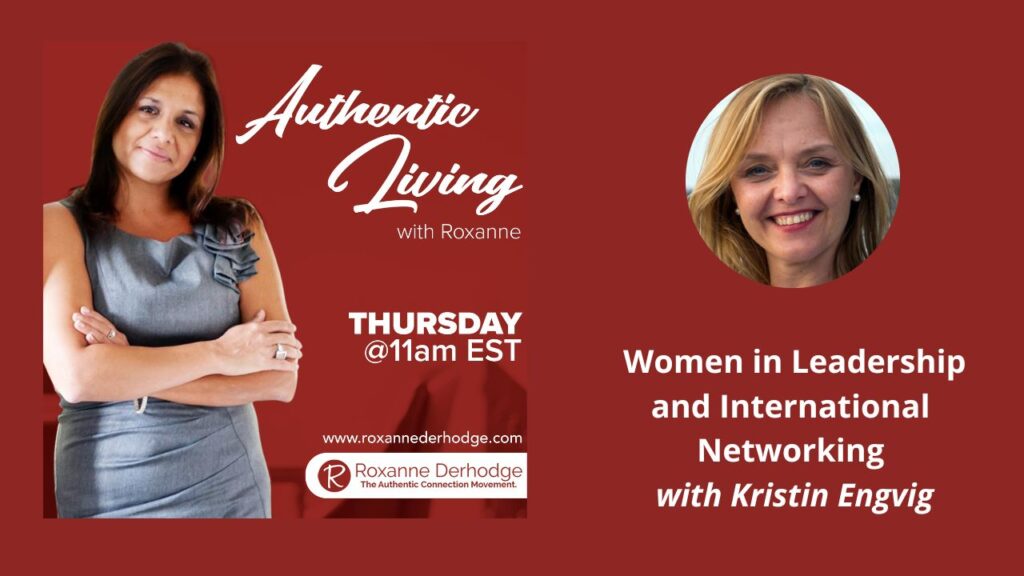 Quote: "Learn to be "gender bi-lingual. We can learn the male way; we can learn the female way and be whole human beings that can play on all fronts." Kristin Engvig
This was such a great interview packed with so much inspirational information that we decided to turn it into a 2-part series. Be sure to tune in again next week for part II.
We have all heard of "the glass ceiling" and how it can affect women in business. It's a metaphor used to represent an invisible barrier that prevents a given demographic (typically applied to women) from rising beyond a certain level in a hierarchy. But what about women who have made it to the boardroom or are currently in leadership roles? How far have we come, and how have our predecessors paved the way for us? On this episode of Authentic Living with Roxanne, we're thrilled to welcome International Networking Expert Kristin Engvig. Kristin joins us to share her leadership journey and discuss how she created the Global Women's International Networking Conference! This year it's in Rome on September 20-24, 2022, and I am thrilled to be speaking there!
Kristin is a pioneer and thought leader in the field of creativity, feminine and authentic leadership. She embraces global responsibility through innovative leadership events and personal speaking engagements to inspire women worldwide to become agents of possibility. She was granted the CEO For Life award and the Best Practice Leader award in 2021 and part of the Diversity Global Magazine's Top 10 Influential Women in Global Diversity. She also won the International Alliance of Women Award in 2010.
Watch the podcast here: Women in Leadership & International Networking with Kristin Engvig
Listen to the podcast here: Women in Leadership & International Networking with Kristin Engvig
Authentic Touch Points:
Kristin's journey to global connecting. 2:00
Limitations in female leadership. 7:30
We've come a long way, baby! 11:00
Shifting to heart-based leadership. 12:30
Becoming "gender bi-lingual". 15:00
See yourself through an objective lens. 17:30
Kristin attends high-level meetings such as the W7 Meeting held in connection with the G7 summit in Italy, the Nobel Peace Prize Forum in Oslo and has facilitated a senior leader forum in the SDG tent during Davos 2020. She has dedicated the past 24 years to women's leadership and organizational change to inspire others to create a world where business flourishes and societies thrive. She created WIN in 97′ to bring alive a vision of a more feminine, global, and sustainable way at work, in communities, and in iife. In her early career, she worked for companies such as JP Morgan, Citibank and Innovation Norway, EU as an international strategy and marketing Consultant. Kristin is educated as a business economist with an MBA and extensive studies in acting, communication and women's development. She is the mother of one boy, Leonardo.
As I offer executive coaching, I encourage leaders to reach out for guidance about presenting their authentic selves to develop an improved workplace for everyone with less conflict. Click here to contact me at your convenience, or click here to Chat with Roxanne!
Take our online quiz to rate your authenticity as a leader!
Stay Authentic,
Roxanne
Links:
WIN Conference website
Forbes Women's Business Council  
Kristin's LinkedIn profile
Roxanne's LinkedIn profile
Roxanne's email: roxanne@roxannederhodge.com
Chat with Roxanne
Roxanne's previous podcasts