Breaking Through the Glass Ceiling in Leadership with Priska Burkard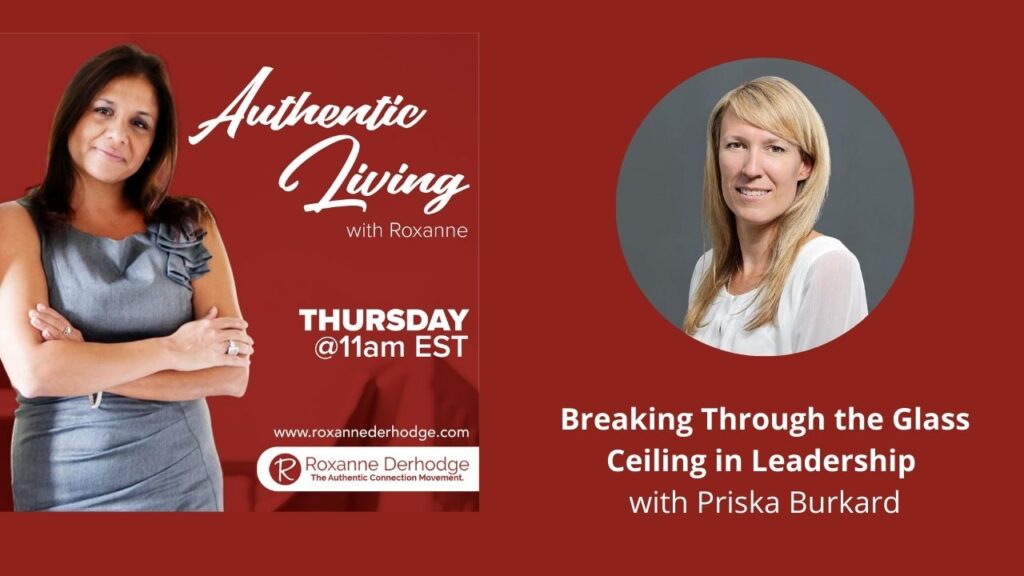 The Glass Ceiling Quote: "One thing I experience a lot, even today, is that women are judged on their performance and men are judged based on their potential." Priska Burkard
The glass ceiling is a metaphor that describes the invisible barrier that prevents women and minorities from attaining leadership and executive positions in organizations. While there seems to be a shift happening, women and minorities still have to work harder to prove themselves capable and worthy of becoming leaders, especially in male dominated fields. On this episode of Authentic Living with Roxanne, we welcome Priska Burkard all the way from Switzerland to talk about her experiences obtaining leadership roles in finance and tech.
Priska has worked over 15 years in the finance industry, where she led national and international IT projects for major banks with great success.  She started her career in the IT world as a career change in Software Engineering.  Her skills and expertise enabled her to not only work for international projects but also move to Hong Kong to take on different roles in Project and Product Management.  In 2016 she left the finance industry to focus on building her own company. 
Listen to the podcast here: Breaking Through the Glass Ceiling in Leadership with Priska Burkard
Authentic Touch Points:
Priska's journey from the medical lab to IT.  1:30
Women in the tech industry.  5:30
Let's get more women in leadership roles.  9:00
How women lead and support each other.  13:00
Creating a more diverse boardroom.  18:00
Advice about to break through the glass ceiling.  23:00
What leaders can do to attract and retain top talent.  27:00
As Managing Director of TechFace, Priska uses her experience, knowledge, and passion to support women pursuing a purposeful career in tech and connect them to companies committed to diversity and inclusion. She also helped to build Girls in Tech Switzerland, a global non-profit organization with the goal to attract and retain women in tech. She understands and has experienced the hardship and strength needed as a woman in tech and wants to support the next generation in reaching their dreams and career goals. Priska lives in Zurich and loves to spend her weekends in the mountains either skiing, hiking or biking.
As we move toward reopening workspaces and gathering again, I encourage leaders to reach out for guidance about presenting their authentic self to develop an improved workplace for everyone with less conflict as I offer executive coaching. Click here to contact me at your convenience or click here to Chat with Roxanne!
Stay Authentic,
Roxanne
Links:
Priska's website
Priska's LinkedIn profile
Roxanne's LinkedIn profile
Roxanne's email: roxanne@roxannederhodge.com
Chat with Roxanne
Roxanne's previous podcasts