How to Keep Your Employees Engaged with Jason Cochran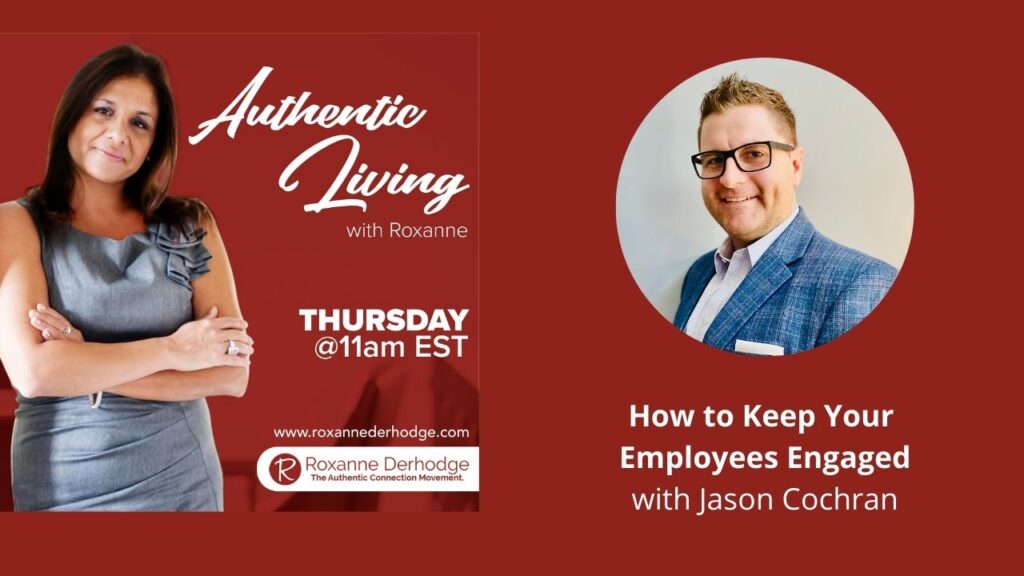 Quote: "Even though our inner dialogue tends to be negative, we don't really like to have conversations with other people who are negative." Jason Cochran
In order to have a productive team and retain your best talent, you must have strong leadership. Strong leadership is created when you maintain a good relationship with your employees. On this episode of Authentic Living with Roxanne we welcome psychologist and connection expert, Jason Cochran to share his strategies on how leaders can keep their employees engaged by teaching them effective leadership skills.
Jason gave us so much great information that we are splitting this into a two-part series, so be sure to tune in again next week for Part II.
Listen to the podcast here: How to Keep Your Employees Engaged with Jason Cochran
Authentic Touch Points:
How leaders can stay authentic. 2:00
Biases and cultural ideals. 5:00
Recalibrating to practice reflective listening. 9:30
Crooked thinking. 12:30
Let's get everyone involved. 15:00
Finding your stress signature. 18:00
Jason devised the 4 Principles of Connection ™️ model (connecting with self, others, role, and organization) which is used to design impactful employee and leadership experiences throughout the employment lifecycle – addressing the innate needs for why people desire meaningful work in their lives. His passion is to help organizations build growth cultures where people elevate to their potential and organizations fulfill their missions in the world.
As we move toward reopening workspaces and gathering again, I encourage leaders to reach out for guidance about presenting their authentic self to develop an improved workplace for everyone with less conflict as I offer executive coaching. Click here to contact me at your convenience or click here to Chat with Roxanne!
Stay Authentic,
Roxanne
Links: