Digital Transformation and the ROR: Return On Relationships (Part 2) with Kamales Lardi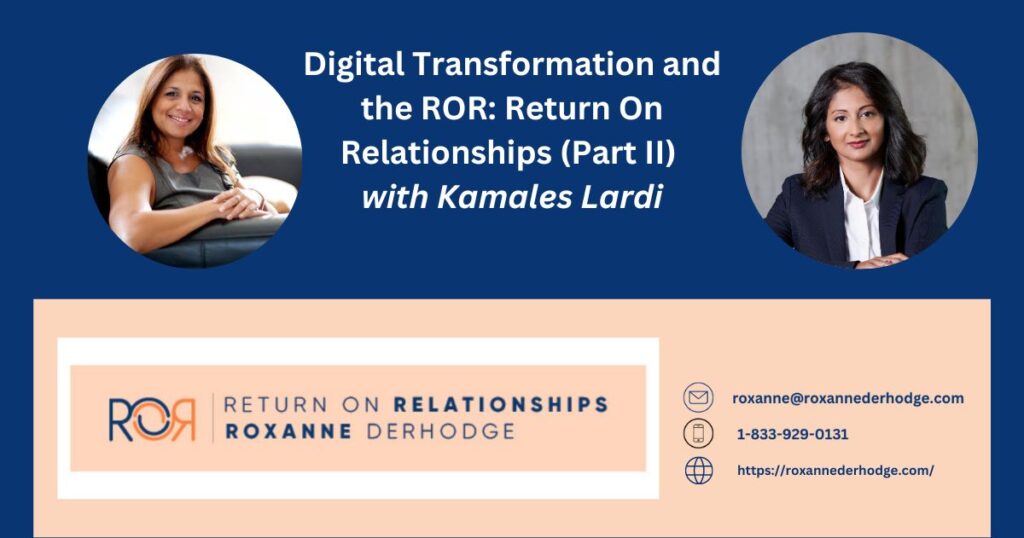 Digital transformation is the adoption of digital technology by an organization to digitize non-digital products, services or operations. The goal for its implementation is to increase value through innovation, invention, customer experience or efficiency. On this episode of Authentic Living with Roxanne, we're happy to welcome Kamales Lardi to share her expertise in helping companies make these transformations effectively and efficiently and how that affects the ROR.
Quote: "When we look at transformation in an organization, we don't look at changing 100% of the people. We don't look at changing even 60%. We look at finding those 20% that will transform, that have already bought into it, that are open to it." Kamales Lardi
This was such a great interview packed with so much inspirational information that we decided to turn it into a 2-part series. Here's the link to Part 1
Kamales is a bold and strategic thinker in business and digital transformation. She combines over 23 years of deep cross-industry experience with the latest digital and technology solutions. She is listed in the "Top 10 Global Influencers & Thought Leaders in Digital Transformation" (Thinkers360) and Top 50 Women in Tech Influencers 2021 (The Awards Magazine). She often says, 'Technology is not a silver bullet solution, a clear value proposition should drive any transformation effort'. This approach resonates well with many business leaders and has helped her stand out in the digital space. Since establishing Lardi & Partner Consulting GmbH in 2012, Kamales has advised many multinational companies across various industries in Europe, Asia and Africa for over a decade. 
Watch the video here: Digital Transformation and the ROR: Return On Relationships (Part II) with Kamales Lardi
Listen to the podcast here: Digital Transformation and the ROR: Return On Relationships (Part II) with Kamales Lardi
Authentic Touch Points:
A bit about Kamales. 1:00
The 6 Traits. 2:00
Creating a culture of trust. 12:00
Tips for CEOs. 17:00
What is your legacy? 22:00
The wrap-up. 24:30
Kamales believes in the transformative impact of emerging technologies. She has developed a deep knowledge and practical experience in a range of emerging technology solutions, such as blockchain, AI, virtual and augmented reality, 3D printing, IoT and sensor technologies, and robotics process automation, among others. Kamales is a Teaching Fellow at Durham University Business School and is the Past Chair of the FORBES Business Council Women Executives. She is a dynamic and influential speaker and presents regularly at corporate and industry conferences. In 2022, Kamales was recognized in International 40 Over 40 – The World's Most Inspiring Women by CapGemini Invent and Female One Zero.
As I offer executive coaching, I encourage leaders to reach out for guidance about presenting their authentic selves to develop an improved workplace for everyone with less conflict.
I welcome you to book a complimentary discovery call: https://roxannederhodge.com/chat/ and take our online quiz to rate your authenticity as a leader: https://roxannederhodge.com/quiz 
Stay Authentic,
Roxanne
Links:
Kamales' website
See Kamales' Books Here
Kamales' LinkedIn profile
Roxanne's LinkedIn profile
Roxanne's email: roxanne@roxannederhodge.com