A Conscious Conversation About Diversity and Inclusion with Phyllis Reid-Jarvis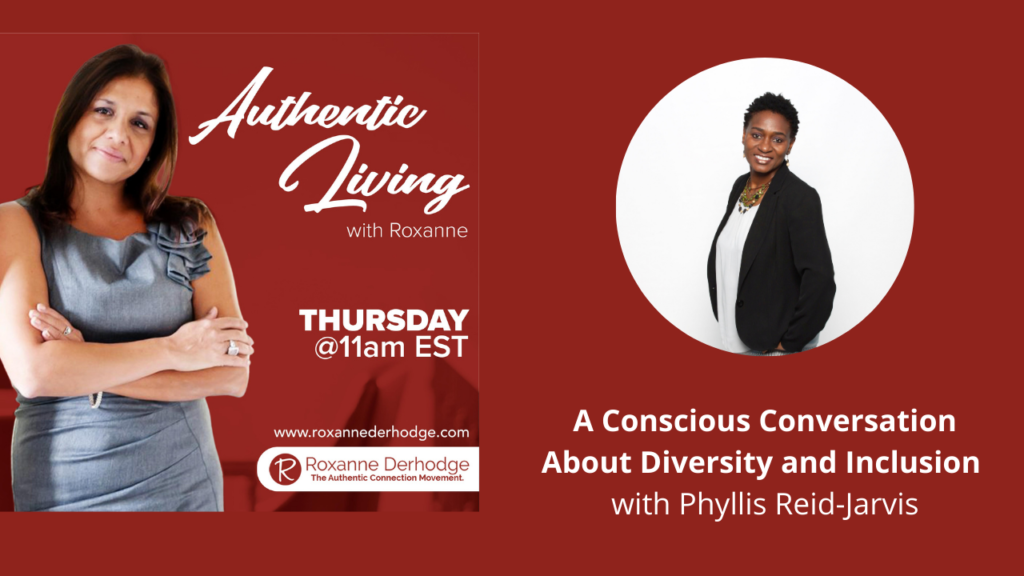 Quote: "What I'm seeing across the board, companies are looking at diversifying their makeup." Phyllis Reid-Jarvis
The events of the past year have led to some very frank discussions about systemic racism and the effects it has on today's society. This in turn has created the space for conversations directed around diversity and inclusion at home and in the workplace. On this episode of Authentic Living with Roxanne, we welcome Phyllis Reid-Jarvis to have a conversation about how leaders can guide their teams through tough conversations and what employees can do to help themselves.
Phyllis Reid-Jarvis, MPH, PCC, is Founder at Ultimate Potentials, a work-life flow business consultancy. With expertise in organizational psychosocial health, conscious leadership, diversity and inclusion training, Phyllis and her team exist to support organizations and individuals achieve their work and life goals; one employee and one family at a time.
Listen to the podcast here:
Authentic Touch Points:
From health and wellness to diversity and inclusion. 2:15
BIPOC in 2020. 8:15
Taking steps to improve diversity and inclusion. 15:45
One question to ask. 20:00
The system of racism. 24:00
The pillars of racism. 30:00
Are we getting to the root cause? 37:30
What employees can do for themselves. 45:30
Phyllis is a Professional Certified Executive Coach, who holds a master's degree in public health from the University of Manitoba's Community Health Sciences Program, a certified MBTI personality types practitioner, and a certified psychological health and safety workplace advisor.
With many of us working from home and feeling the pressure of the pandemic, I encourage you to reach out with thoughts or questions about your own self-awareness and creating a healthier mindset.
I have created a new live coaching program to help you Create Healthier and More Authentic Relationships in your life. Click here to contact me at your convenience or click here to book a complimentary call with me.
Stay Authentic,
Roxanne
Links:
Phyllis' website: https://www.ultimatepotentials.com
Roxanne's email: roxanne@roxannederhodge.com
Book a complementary Call with Roxanne
Roxanne's previous podcasts