Achieve a State of Flow to Increase Productivity with Omer Aziz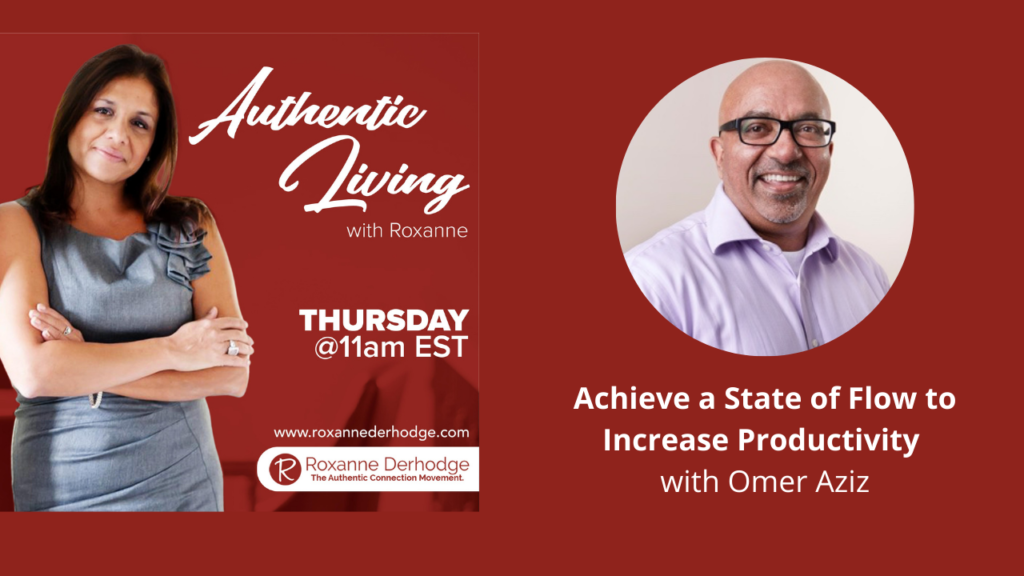 Quote: "The fundamental building block of Flow is this idea of an emotional high."  Omer Aziz
What is Flow, why do we need it and how do we achieve it?  A Flow State, also known as being in the zone, is the mental state in which a person performing an activity is fully immersed in a feeling of energized focus, full involvement, and enjoyment in the process of the activity. On this episode of Authentic Living with Roxanne, we welcome Omer Aziz to discuss how to increase productivity by achieving a state of Flow.
Omer is a strengths-based coach who uses an engineering approach. He has a background in Engineering and HR both in education and experience. He obtained his Masters in Engineering from Carleton University and certificates in HR Management from the University of Toronto and the University of Michigan. He has over 30 years of experience working for Canadian telecommunications and hi-tech companies. 
Listen to the podcast here:
Achieve a State of Flow to Increase Productivity with Omer Aziz
Authentic Touch Points:
What is Flow?  2:15
Is Flow quantifiable? 5:45
How to track and build Flow.  11:00
Silencing your inner critic.  14:30
How to trigger your Flow.  19:45
What can restrict Flow?  24:00
Flow is contagious.  28:30
The research of Flow.  31:30 
Omer has presented at various conferences including TEDx (Thunder Bay),  DisruptHR (Ottawa and Niagara region) and HR Redefined (NYC). He also achieved his coaching certification with the Flow Genome Project, and he currently consults with companies and individuals on achieving the state of peak performance called Flow. 
With many of us working from home and feeling the pressure of the pandemic, I encourage you to reach out with thoughts or questions about your own self-awareness and creating a healthier mindset through connection.
I have created a new live coaching program to help you Create Healthier and More Authentic Relationships in your life and get more connected to your authentic self. Click here to contact me at your convenience or click here to book a complimentary call with me.
Stay Authentic,
Roxanne
Links:
Omer's email: omer@peakperformance.engineering
Connect with Omer by email to receive your free gifts
Omer's website: https://peakperformance.engineering/
Roxanne's email: roxanne@roxannederhodge.com
Book a complementary Call with Roxanne
Roxanne's previous podcasts