Creating Systemic Change in DEI with Phyllis Reid-Jarvis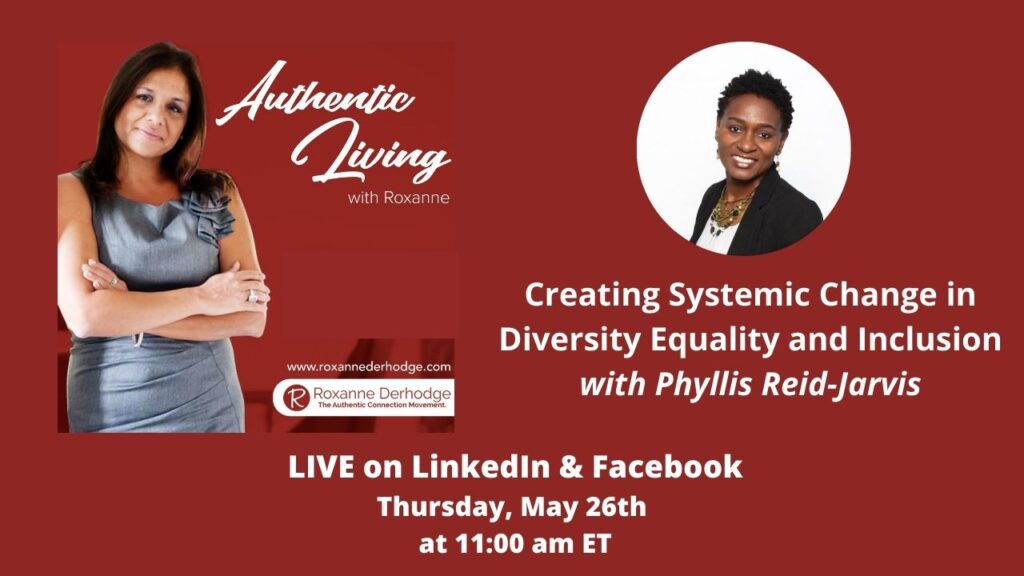 DEI Quote: "If the playing field is indeed level, then we'll all have an equal, truly equal opportunity." Phyllis Reid-Jarvis
Diversity, Equity and Inclusion or DEI…
Words that we're all hearing but are we truly seeing a change in society? The past week has seen yet another mass shooting in the headlines that was enveloped in hate. What needs to happen before we start to see some real change? On this episode of Authentic Living with Roxanne, we welcome Phyllis Reid-Jarvis to have a very timely and necessary conversation on how we can create the changes that are so clearly needed in the world. 
Phyllis is an experienced international executive coach who works with organizations and individuals to realize their full potential. With a focus on employee and organizational success, she helps businesses sharpen their skills by coaching them on operationalizing what they have learned in training.
Watch the podcast here: Creating Systemic Change in DEI with Phyllis Reid-Jarvis
Listen to the podcast here: Creating Systemic Change in DEI with Phyllis Reid-Jarvis
Authentic Touch Points:
A bit about Phyllis. 2:00
Finding out that we're different. 4:30
Working to defeat racism. 9:00
Open conversations are necessary. 13:00
Discrimination vs racism. 20:00
Reverse discrimination. 24:30
How to talk about the messy stuff. 34:00
Know when to end the conversation. 40:00
The power of the pause. 43:00
Phyllis holds a Bachelor's Degree in Food & Nutrition from the University of Manitoba and a Diploma in Dietetics from the Health Sciences Centre. She also holds a Master of Public Health degree from the University of Manitoba and a graduate certificate in aging from the Centre for Aging in Manitoba. She received her professional coach training at the International Coach Academy (ICA) and is a member of the College of Dietitians of Manitoba, Dietitians of Canada, International Coaching Federation (ICF), and the Consulting Dietitians Network.
As we move toward reopening workspaces and gathering again, I encourage leaders to reach out for guidance about presenting their authentic self to develop an improved workplace for everyone with less conflict, as I offer executive coaching. Click here to contact me at your convenience, or click here to Chat with Roxanne!
Take our online quiz to rate your authenticity as a leader!
Stay Authentic,
Roxanne
Links:
Phyllis' website
Phyllis' Email: living@ultimatepotentials.com  
Phyllis' LinkedIn profile
Roxanne's LinkedIn profile
Roxanne's email: roxanne@roxannederhodge.com
Chat with Roxanne
Roxanne's previous podcasts