Working to Keep Joy Alive Through Our 2nd COVID Holiday Season with Sue Lymburner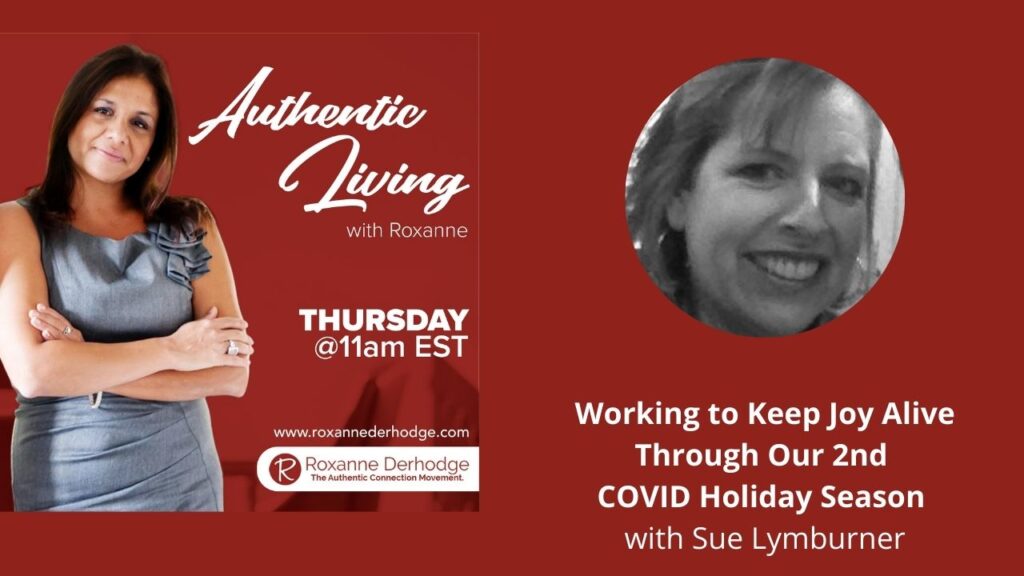 Quote: "I've noticed an increase in people coming to speak to me not just about what's going on for them or their past traumas, but also a log more direct correlation to the pandemic." Sue Lymburner
Almost 2 years ago, we were shutting down for what we thought was two weeks.  Now, nearly two years later, we are struggling to get through our second COVID holiday season.  On this episode of Authentic Living with Roxanne, we're thrilled to welcome back for another holiday edition, Roxanne's long-time friend and trauma expert, Sue Lymburner, to discuss how people are working even harder this year to stay happy and jolly.  It's no wonder people are struggling with the current Omicron variant ravaging the entire planet, social distancing, restrictions for visiting loved ones in effect again and top it off with colder weather. Sue will share some strategies to help us keep our spirits bright throughout the holidays.
Sue has been a clinical psychotherapist for more than 20 years. She helps her clients deal with difficult life events such as abuse, addiction, a job or relationship loss, mental illnesses or unresolved trauma. She works with her clients to gain insight into the challenges they face so obstacles that might seem insurmountable can be overcome.
Sue gave us so much great information that we are splitting this into a two-part series, so be sure to tune in again next week for Part II.
Listen to the podcast here: Working to Keep Joy Alive Through Our 2nd COVID Holiday Season with Sue Lymburner
Authentic Touch Points:
Approaching our 2nd COVID holiday season.  2:30
We're more anxious than ever.  5:00
We're mentally depleted.  8:30
Compromised connection for our teens.  12:00
The Catch-Up Effect.  15:00
 Vaccine tension.  17:30
Sue has extensive experience in the areas of child, family and couples counselling as well as sexual and crisis counselling. By learning about how her clients' experiences have impacted their life and identifying tools and coping mechanisms that work, they learn to approach their issues with a new perspective, take action to address them and get back to leading a peaceful, healthy life.
As we continue through the ups and downs of the pandemic, I encourage leaders to reach out for guidance about presenting their authentic self to develop an improved workplace for everyone with less conflict as I offer executive coaching. Click here to contact me at your convenience, or click here to Chat with Roxanne!
Stay Authentic,
Roxanne
Links:
Sue's website
Sue's LinkedIn profile
Roxanne's LinkedIn profile
Roxanne's email: roxanne@roxannederhodge.com