Strategies to Get Through a COVID Holiday Season with Sue Lymburner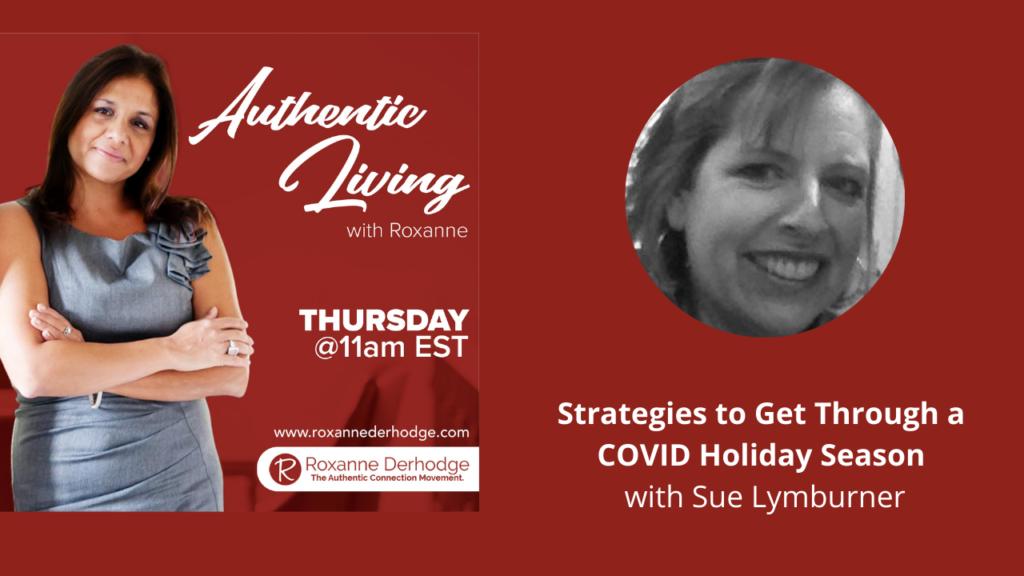 There's no doubt that the 2020 holiday season is going to be different than any other year. The global pandemic has caused an unprecedented interruption in all of our lives. The second wave has descended upon us creating a disconnect with friends and family that we've not seen before in our lifetime.
On this episode of Authentic Living with Roxanne, we are thrilled to welcome Clinical Psychologist and Roxanne's long-time friend, Sue Lymburner to talk about how people are struggling to keep their spirits bright.  With the current lockdowns, social distancing, restrictions for visiting loved ones and colder weather, she will share some strategies to help everyone to stay a little jollier throughout the holidays.
Listen to the podcast here:
Authentic Touch Points:
The exponential effects of COVID  2:00
The second wave and seasonal restrictions  5:30
Holiday traditions, expectations and the humdrums  7:30
Acknowledge the grief and loss  13:30
Sharing memories can be helpful  19:00
Kids are very adaptable and resilient  26:15
The upside of restrictions  27:15
Be creative and adapt your traditions  32:30
Sue has been a clinical psychotherapist for more than 20 years. She helps her clients deal with difficult life events such as abuse, addiction, a job or relationship loss, mental illnesses or unresolved trauma. She works with her clients to gain insight into the challenges they face so obstacles that might seem insurmountable can be overcome.
Sue has extensive experience in the areas of child, family and couples counselling as well as sexual and crisis counselling. By learning about how her clients' experiences have impacted their life and identifying tools and coping mechanisms that work, they learn to approach their issues with a new perspective, take action to address them and get back to leading a peaceful, healthy life.
With many of us working from home and feeling the pressure of the pandemic and the upcoming holiday season, I encourage you to reach out with thoughts or questions about creating a healthier mindset. Click here to contact me at your convenience or click here to book a complementary call with me.
You can find more information about me and how I can help you live a more authentic and resilient life at RoxanneDerhodge.com
Thank you,
Roxanne
Links:
Sue's website:  https://www.suelymburner.com/
Distress Centre:  http://www.dcontario.org/
Roxanne's email:  roxanne@roxannederhodge.com
Book a complementary call with Roxanne
Roxanne's previous podcasts