Working Through COVID Anxiety with Mental Health Expert, Julie Leonard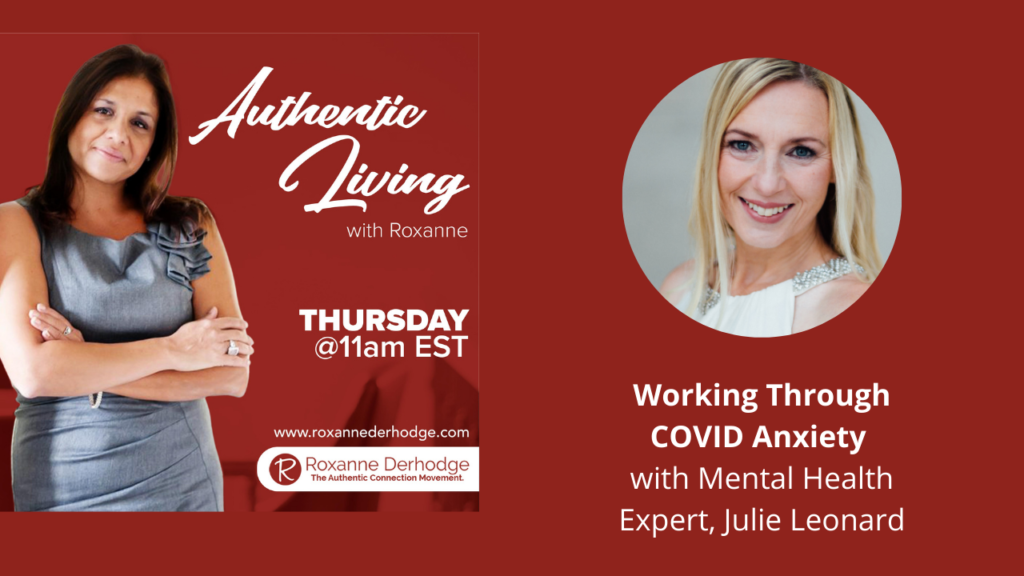 Have you found yourself struggling to find feelings of happiness throughout the COVID 19 lockdown? Please know that you're not alone. On this episode of Authentic Living with Roxanne, we welcome (all the way from Germany) Mental Health and Happiness Expert, Julie Leonard to share some strategies on how to deal with anxiety and find happiness even in times of uncertainty like what we are all living in now.
Julie is a Scotland native currently living in Germany. She is passionate about sharing her knowledge, skills and tools and supporting people as they make positive changes in themselves and in their lives. Her whole career of 30 years has been focused on empowering people to reach their full potentials. She studied psychology and worked in mental health before making the natural move into coaching.
Listen to the podcast here:
Authentic Touch Points:
30 years of working in happiness. 2:00
The concept of happiness. 6:00
Slow down and capture the moment. 11:00
Tips for dealing with anxiety through COVID. 15:00
Heightening your senses with mindfulness. 26:30
Making happiness a habit. 29:00
Julie's personal story of transformation from being shy and anxious with low self-esteem to becoming the confident woman, Life Coach and speaker she is today resonates with, and inspires, many. She can relate to people who feel stuck, unhappy, and unfulfilled and to date has worked with over 1,000 people to transform their lives. Julie considers herself to be a Happiness Evangelist, as she wants to spread the message that we do not have to be defined by our past or held back by limiting beliefs. That's why Julie believes that we can be proactive in our lives, get clear on what we want and live the lives we truly desire.
With many of us working from home and spending most of our time with family, I encourage you to reach out with thoughts or questions about creating a healthier mindset. Click here to contact me at your convenience or click the link below to book a call with me.
You will also find more information about me and how I can help you at RoxanneDerhodge.com.

Thank you,
Roxanne
Links:
Julie's website: http://julieleonardcoaching.com
Julie's email: hello@julieleonardcoaching.com
Julie's Facebook Page: https://www.facebook.com/groups/HappinessClubVIP/
Roxanne's email: roxanne@roxannederhodge.com
Book a call with Roxanne: https://calendly.com/roxanne-8
Roxanne's previous podcasts: https://roxannederhodge.com/blog/