Using Connection to Overcome Addiction with Allan Kehler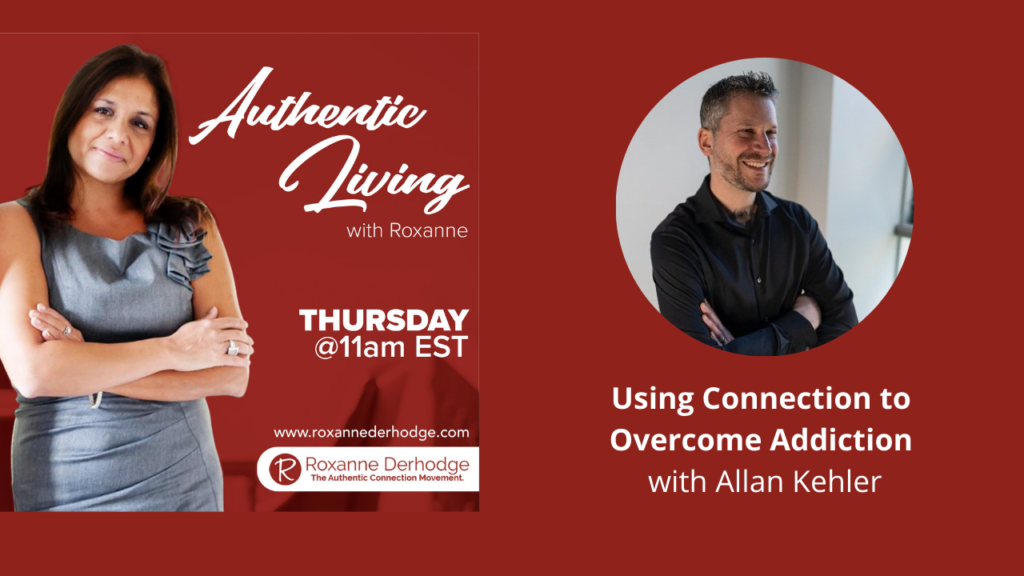 Quote: "The definition for healing for me is pretty simple. The more that you can get the darkness out, the more room you're going to make for light." Allan Kehler
There are many mental health issues and forms of addiction prevalent in our society and finding a path back to good mental health can be overwhelming. Often when support is offered the person struggling isn't ready to take that first step. On this episode of Authentic Living with Roxanne we welcome Allan Kehler who has been through his own struggles with mental health and addiction and now helps others find their way back to good mental health.
Allan is a mental health advocate, international keynote speaker, best-selling author of four books. His writing has been published in countless national magazines and he has been featured on several television and radio programs. He has also instructed various mental health-related courses at the college level and spent years working as an addiction counsellor and clinical case manager.  Allan is one of Canada's most sought-after speakers when it comes to the topic of mental health and wellness. He has stood on more than 500 stages and is recognized for his engaging style and captivating approach. 
Listen to the podcast here:
Using Connection to Overcome Addiction with Allan Kehler
Authentic Touch Points:
Allan's path from chaos to calm. 3:00
How thoughts can impact behaviour.  7:15
Running from the pain.  10:15
Words of support that can make a difference.  13:15
How connection helped create change for Allan.  17:00
A safe space helps build trust.  21:30
Men need communication and connection too.  25:30
Having persevered through his own mental health issues and substance use, Allan speaks from a place of experience. His moving stories tug on heartstrings, inspire a new perspective, and allow people to find connection with themselves and others at a deeper level. He uses humour and compassion to create a safe space where people feel seen, heard and supported.  Allan has developed a genuine appreciation and passion for learning and working with Indigenous people and communities. This has played a key role in his own recovery and these cultural teachings can be found in his presentations.  Allan currently resides in Saskatoon, Saskatchewan. He shares his life with his beautiful wife, four boys, four dogs, and a tank of fish. 
With many of us working from home and feeling the pressure of the pandemic, I encourage you to reach out with thoughts or questions about your own self-awareness and creating a healthier mindset through connection. 
I have created a new live coaching program to help you Create Healthier and More Authentic Relationships in your life and get more connected to your authentic self. Click here to contact me at your convenience or click here to book a complimentary call with me.
Stay Authentic,
Roxanne
Links:
Allan's website
Contact Allan
Allan's books
Roxanne's email: roxanne@roxannederhodge.com
Book a complementary Call with Roxanne
Roxanne's previous podcasts