Finding Your Leadership Superpower with Jaime Taets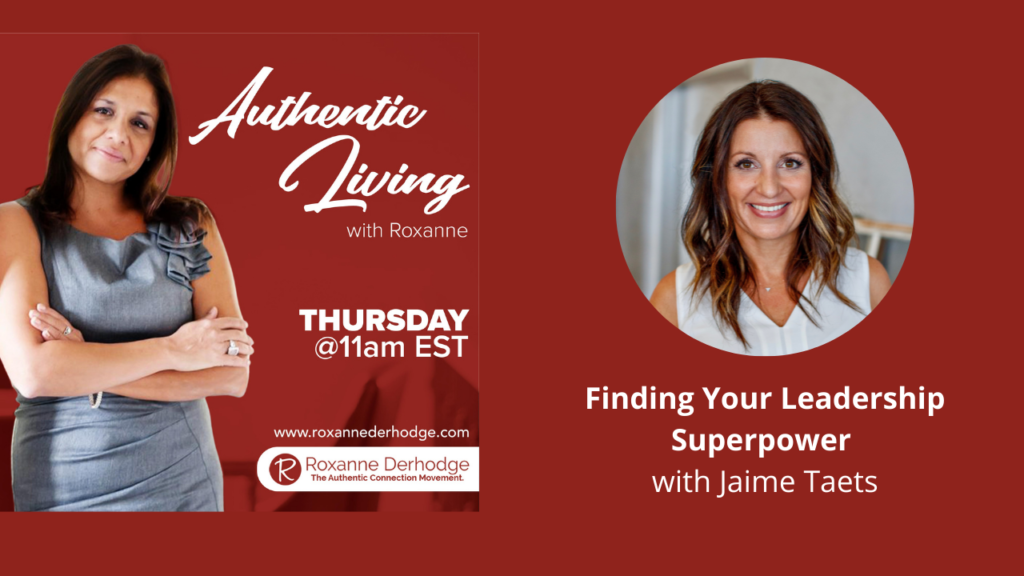 Quote:  "As a leader, our job is not to be the superhero and save the day for everyone else.  Our job is to make them the superheroes of their own stories." Jaime Taets
In this unprecedented time, effective and compassionate leadership is essential.  More now than ever before, we find that the uncertainty of the pandemic has many of us on edge and wondering what's next to come?   On this episode of Authentic Living with Roxanne, we welcome fellow Forbes Council Member Jaime Taets to share her thoughts on how leaders can manage with empathy to help to calm the fears of their team and position them for success. Each of us has within our Leadership Superpower and now is the time to find it and utilize it.
Jaime is a CEO, public speaker, author, podcast host, and thought leader… in every one of these roles, she helps people reach their potential. She isn't afraid to have "get real" conversations about the things that often limit people from achieving success. Jaime is CEO of Keystone International Group, host of "Superpower Success Podcast," and a keynote speaker. 
Listen to the podcast here:
Finding Your Leadership Superpower with Jaime Taets
Authentic Touch Points:
Leading with influence.  1:30
Starting from scratch.  4:00
COVID creates caring in leaders.  7:30
Emotional intelligence is necessary.  10:30
Transparency in leadership is key.  16:30
Leading vs managing.  19:00
Self-care is essential.  23:00
Harnessing her own leadership experiences, Jaime inspires frank and sometimes challenging discussions about the crossroads between high-performance and healthy change. Ultimately, her solution-focused insights help people go from stuck to success every day—at work, home, and in their personal lives. She, her husband, and their four children live in Mound, Minnesota.
With many of us working from home and feeling the pressure of the pandemic, I encourage you to reach out with thoughts or questions about your own self-awareness and creating a healthier mindset.
I have created a new live coaching program to help you Create Healthier and More Authentic Relationships in your life and get more connected to your authentic self. Click here to contact me at your convenience or click here to book a complimentary call with me.
Stay Authentic,
Roxanne
Links:
Jaime's website
Keystone Group International
Superpower Success podcast
Preorder Jaime's book
Jaime's LinkedIn profile
Roxanne's email: roxanne@roxannederhodge.com
Book a complementary Call with Roxanne
Roxanne's previous podcasts