Leading with Compassion and Empathy (Part II) with Wade Thomas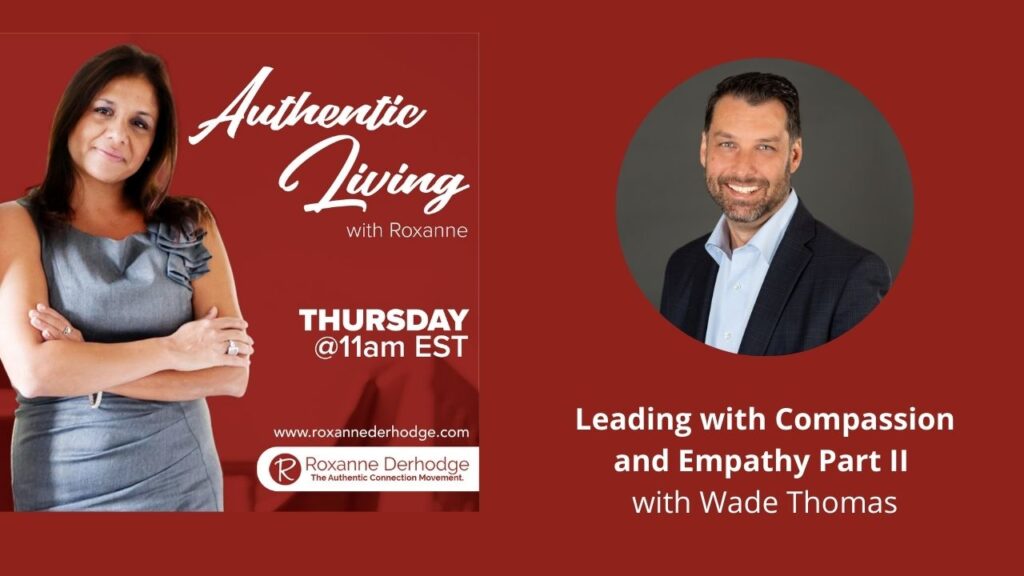 Compassion and Empathy Quote: "The way to define heart-based leadership is leadership that focuses on empathy and compassion.  Really just being there for your people, understanding what they're going through on a very deep level and then leading with that compassion." Wade Thomas
What is the benchmark of a successful leader?  Is it satisfied customers, happy employees, the bottom line? What if you could have "all of the above"?  On this episode of Authentic Living with Roxanne, we are thrilled to welcome business coach Wade Thomas to share his thoughts about how bringing compassion and empathy to the table in a meaningful way will help the leader, the people the leader works with, the organization and society, in general, overcome the challenges that we are faced with.  
I had such a wonderful and information filled chat with Wade last week that we decided to turn it into a 2-part series.  In case you missed last week, here's the link to Part I  It's not mandatory that you listen to it first, but I recommend that you do.  There's so much amazing content, it would be a shame for you to miss out on any of it.
For over two decades, Wade has served as a strategic talent executive who guides leaders to develop and shape organizations from the perspective of high-performance management coupled with compassion and empathy. As the founder and CEO of Aim to Win, author of the book "From the Heart," and host of the Aim to Win podcast, Wade has coached and consulted with hundreds of leaders who are now practicing the principles of bringing out the best in high performing individuals and teams, so that they are equipped to achieve organizational excellence and business growth.
Listen to the podcast here: Leading with Compassion and Empathy Part II with Wade Thomas
Authentic Touch Points:
Connection without intrusion.  1:30
You'll always remember a great leader. 6:30
It all starts with connection.  9:30
ROR helps the ROI.  12:00
Getting the whole picture.  15:00
What leaders should know about their team.  17:00
Let's talk about compassion.  20:00
Wade believes that compassion and empathy have a place in the business world and that they are integral parts of long-term success. He strives to help his clients find their voice, individuality, and passion to give them the freedom to lead their lives on their terms!
As we move toward reopening workspaces and gathering again, I encourage leaders to reach out for guidance about presenting their authentic self to develop an improved workplace for everyone with less conflict. I offer executive coaching and leadership training that will help you create more resilient teams and retain your best people.  Click here to contact me at your convenience, or click here to Chat with Roxanne!
Stay Authentic,
Roxanne
Links:
Wade's website
Wade's LinkedIn profile
Roxanne's LinkedIn profile
Wade's book
Roxanne's email: roxanne@roxannederhodge.com
Chat with Roxanne
Roxanne's previous podcasts