The Path to Enlightenment with Matthew Ferry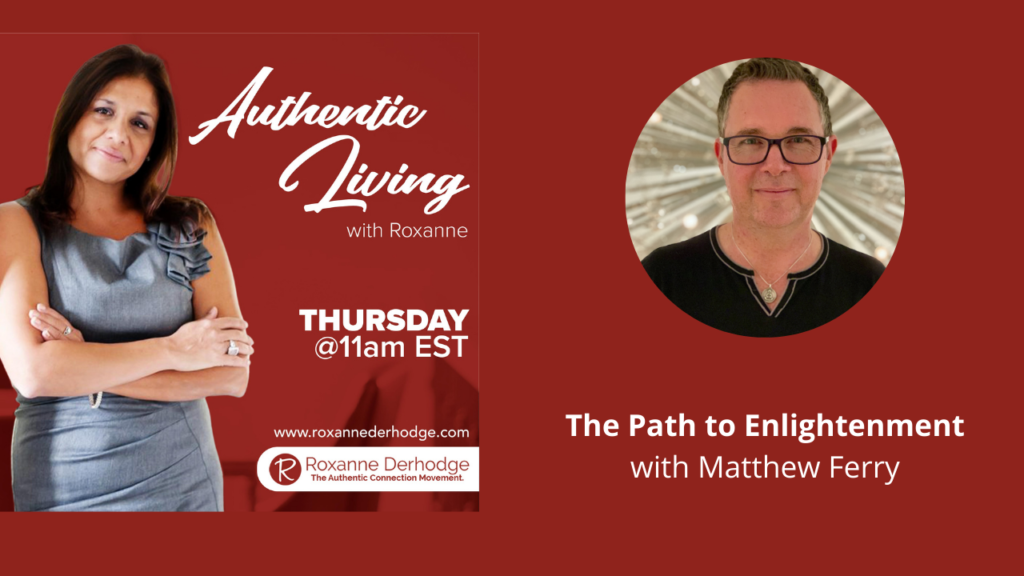 Quote: "Enlightenment is the recognition that the source of life for you is the source of life for everyone and everything. We are all one thing expressing itself with infinite variety." Matthew Ferry
Are you a spiritual being? Many of us struggle to find our spiritual self and the ability to believe in a "higher power", whether it be God, the universe or just our inner self. On this episode of Authentic Living with Roxanne, we welcome Matthew Ferry who will share his ideas about learning to listen to that voice and hear the messages your subconscious mind is sending to help you live a happier and more fulfilling life.
Matthew is a Spiritual Teacher, Songwriter and Best-Selling Author. For the last 26 years, he has coached thousands of top performers to achieve Enlightened Prosperity™. His books, videos, audios, songs, meditations and seminars all utilize his street-tested methodology called The Rapid Enlightenment Process™. 
Listen to the podcast here:
Authentic Touch Points:
Matthew's path to enlightenment.  2:00
When your dad is a famous sales guru.  4:30
Receiving guidance in childhood.  7:30
Slow down and listen to your subconscious.  10:30
Syntropy vs entropy.  15:00
Where The Rapid Enlightenment Process™ takes you.   18:30
Embracing your "drunk monkey".  21:30Learn to simplify to transform.  24:45
Among his many projects, Matthew manages a blog and spearheads The Ignite Mastermind. Matthew Ferry is also the author of Quiet Mind Epic Life, an Amazon Self Help and Spirituality best-seller in the US, Canada, Australia and Japan. Matthew and his family live in Southern California.
With many of us working from home and feeling the pressure of the pandemic, I encourage you to reach out with thoughts or questions about creating a healthier mindset.
I have created a new live coaching program to help you Create Healthier and More Authentic Relationships in your life. Click here to contact me at your convenience or click here to book a complimentary call with me.
Stay Authentic,
Roxanne
Links:
Matthew's website
Matthew's FREE app
Hidden Messages in Water
David Hawkins