Mind Aid with Matthew Dickson (Part II)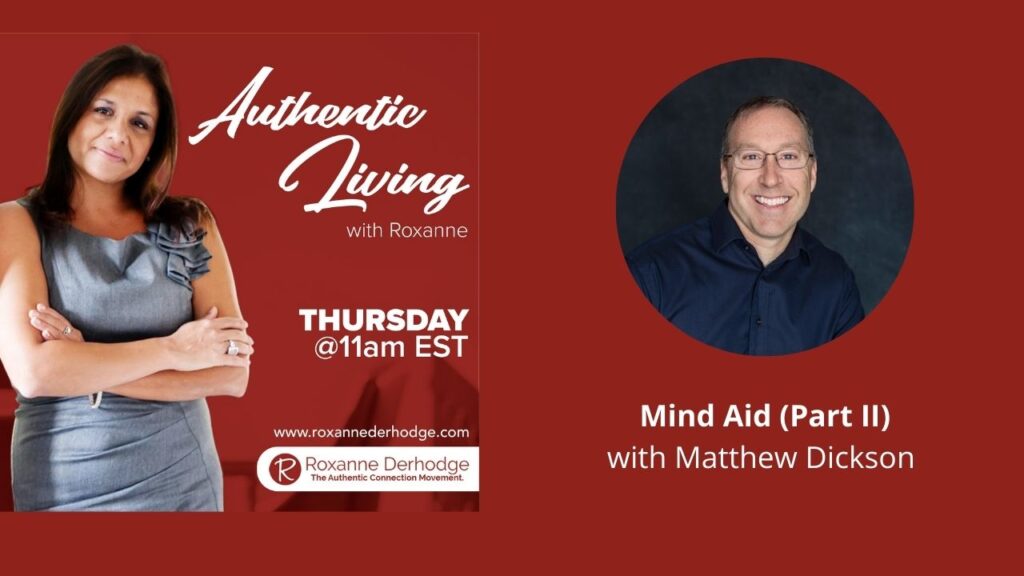 Mind Aid Quote: "Some countries have only 1 psychiatrist per 1 million people! There are over 270 million people in developing countries with no mental health care." Matthew Dickson
There are many people out there who advocate for those with mental health issues, but not all of them lead by experience. On this episode of Authentic Living with Roxanne, we welcome Matthew Dickson who has suffered with his own mental health issues and now takes his lived experience to help those in developing countries receive the help that they so desperately need.
Matthew gave us so much great information that we are splitting this into two episodes, if you missed Part I, CLICK HERE to listen.
Matthew is a Mental Health Advocate who works to help people in impoverished countries with no mental health care.  His heart goes out to people in developing or war-torn countries who experience not only the torment of mental illness but the traumas of poverty or the horrors of war as well. It's not fair.  Some countries have only one psychiatrist per million people. They have no medications. No counselling. No support groups.
Listen to the podcast here: Mind Aid with Matthew Dickson (Part II)
Authentic Touch Points:
One benefit of COVID.  1:00
How leaders can help their team.  4:00
Showing up & getting it done.  7:30
Structure is so important.  9:00
Finding mental health resources in developing countries.  12:00
Helping those who can't help themselves.  16:00
Creating healing connections around the world.  20:00
As someone who went through mental illness in one of the most advanced countries in the world, Matthew could not believe how painful mental illness is. Canada has some of the best mental health resources in the world. What some people go through in other countries is unthinkable. Matthew works to restore their hope, their dignity and help them to regain good mental health. He has successfully overcome schizophrenia, has bicycled across Canada, and has an engineering degree. He loves the outdoors, making people laugh, and dancing!
As we move toward reopening workspaces and gathering again, I encourage leaders to reach out for guidance about developing an authentic and improved workplace for everyone with less conflict. Click here to contact me at your convenience or click here to book a complimentary call with me.
Stay Authentic,
Roxanne
Links:
Matthew's website
Mind Aid Facebook Group
Matthew's articles
#BreakTheChain
Verbal Judo:   Canada  USmhGap
Roxanne's email: roxanne@roxannederhodge.com
Book a complementary Call with Roxanne
Roxanne's previous podcasts