The Goldilocks Dilemma in Senior Leadership (Part 2) with Oliver Johnston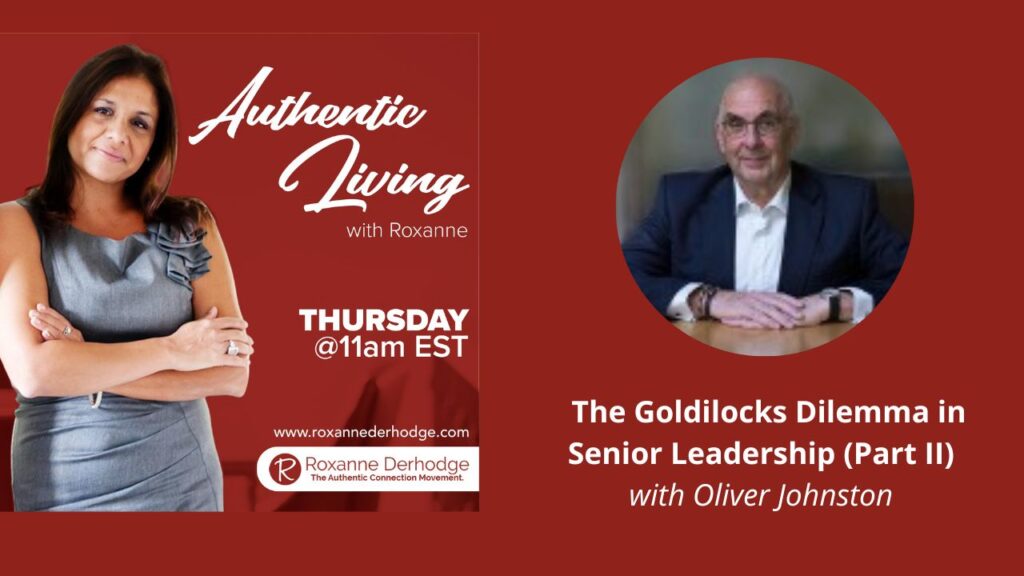 In senior leadership, how do you decide what your best-before date is?
Quote: "In the survey that we did, the very great majority of organizations don't have a formal approach to enabling their senior leaders to leave well and therefore create the space for new leaders to arrive." Oliver Johnston
This was such a great interview packed with so much inspirational information that we decided to turn it into a 2-part series. Here's the link to Part 1: https://roxannederhodge.com/senior-leadership-with-oliver-johnston/
Senior leaders work hard to claim their place in the company, but how do they know when it's time to let someone else take over the reins? No one is given a best-before date, so how are they supposed to know the best time to transition into an encore career or retirement? Senior leaders can step out too early, and they can step out too late.  Getting it just right isn't as easy as it might seem. On this episode of Authentic Living with Roxanne, we welcome the Founder of Stepping Out from the Top, Oliver Johnston, to share his ideas and expertise on offboarding and the support that may be required for this significant career and life transition.
Oliver is the Founder of Stepping Out from the Top Team. Stepping Out is a specialist coaching practice that helps senior leaders step out from the executive suite successfully. In December 2020, Oliver retired from his professional coaching practice in order to concentrate solely on leading the Stepping Out practice. He is an accredited Stepping Out Coach and a highly experienced top team advisor and facilitator. 
Watch the video here: The Goldilocks Dilemma in Senior Leadership (Part II) with Oliver Johnston
Listen to the podcast here: The Goldilocks Dilemma in Senior Leadership (Part II) with Oliver Johnston
Authentic Touch Points:
Retirement is a relatively new concept. 2:00
How companies can prepare for change. 5:00
It's never too early to start planning. 10:00
The 3 Horizons. 13:30
Where do we go from here? 22:30
What companies should consider. 27:30
Oliver was a highly successful business consultant with an international reputation in change, organizational and leadership development. He has extensive experience working in a wide variety of sectors, including accounting, banking and finance, academic and research, law, consulting, IT, pharmaceuticals, engineering & manufacturing, food & beverage, retailing, public service & administration, energy & utilities, transport & logistics. Oliver's passion is supporting senior leadership as they think, plan and execute their journey from the top team to the exit door and move on to new adventures.
As I offer executive coaching, I encourage leaders to reach out for guidance about presenting their authentic selves to develop an improved workplace for everyone with less conflict. 
I welcome you to click here to book a complimentary discovery call!
Take our online quiz to rate your authenticity as a leader!
Stay Authentic,
Roxanne
Links:
Oliver's website
Click for Oliver's Report
Oliver's LinkedIn profile
Roxanne's LinkedIn profile
Roxanne's previous podcasts