Presenting Your Authentic Self Through Video with Evelina Riguer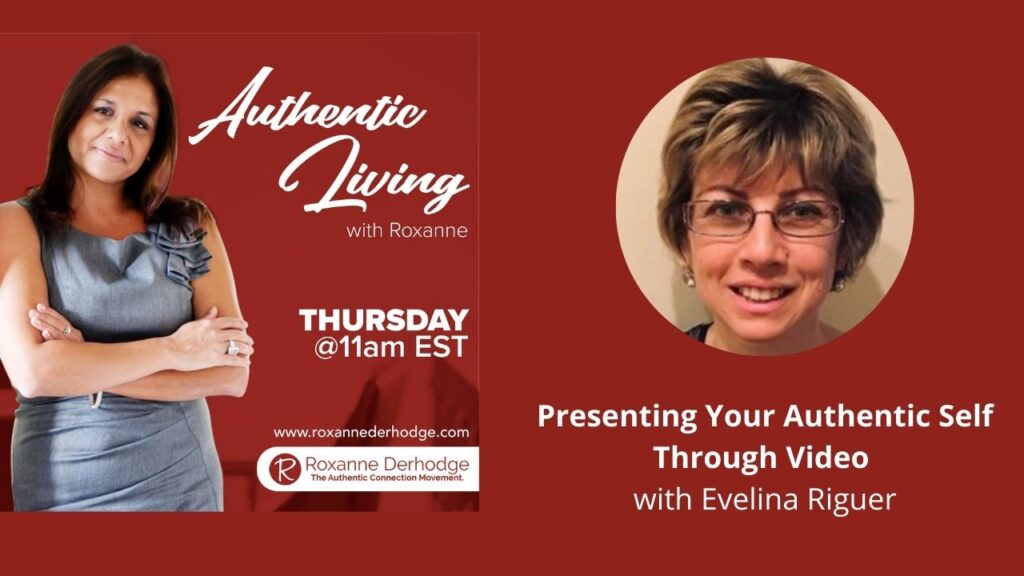 Quote: "You have to be authentic and understanding toward yourself.  That will help you to be authentic and bring that forward to other people."  Evelina Riguer
We have had to adapt to living and working virtually due to COVID and sometimes it feels like we've lost our connection along the way.  How can we present our true selves while we're connecting online?  On this episode of Authentic Living with Roxanne, we welcome Evelina Riguer who will offer some great techniques on how to share your authentic voice when you can't be together in person.
As a Marketing Coordinator at Velbix Films, Evelina finds her passion when working and connecting with business-minded people, networking and expanding her knowledge in the Film Industry. She cares about helping her clients share their authentic self through video to capture the essence of their business.
Listen to the podcast here: Presenting Your Authentic Self Through Video with Evelina Riguer
Authentic Touch Points:
Moving forward when the world stopped.  2:30
Being authentic via video.  5:00
Authentic mindset strategies.  9:00
Connecting to your authentic message.  12:30
The screening process for leaders.  16:30
Considerations when creating your video.  19:30
Finding your on-camera focus.  22:00
Giving your attention to create connection. 27:30
Evelina speaks about how to integrate videos for your business and why adding video can greatly enhance your company image. She obtained her BA in Women Studies from York University and has gained valuable skills throughout the years by working in administration, sales, and marketing.
As we move toward reopening workspaces and gathering again, I encourage leaders to reach out for guidance about presenting their authentic self in order to develop an improved workplace for everyone with less conflict.   Click here to contact me at your convenience or click here to Chat with Roxanne!
Stay Authentic,  
Roxanne
Links:
Evelina's LinkedIn profile
Evelina's email: evie.riguer@gmail.com
Velbix Films
Roxanne's email: roxanne@roxannederhodge.com
Chat with Roxanne
Roxanne's previous podcasts