Online Offerings to Help You Work Smarter Virtually with Valerie Jennings & Johnna Londen of Online Business Gurus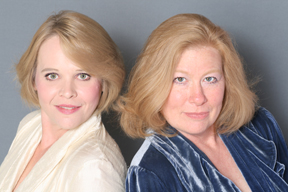 So many of us were instantly thrown into an unknown world of working virtually from home.  Some have embraced it with open arms while others are struggling to stay on task.  This is completely understandable…trying to get things done while you're also homeschooling your kids or have your spouse or other household members at home is not an easy task.  
On this episode of Authentic Living with Roxanne, we welcome Valerie and Johnna of Online Business Gurus to talk us through some of the difficulties you may be facing while working virtually and offering suggestions that may help.
VALERIE JENNINGS has a BA in Communications and over 25 years' experience in the administrative and computer Fields. She was also an Advertising Director for TIF Instruments, an instrument measuring company in Miami, FL for over 7 years. There she won many awards from many of the trade magazines for her Advertising Designs.
JOHNNA LONDEN has an Associate Degree in Computer Networking. She has worked many years in Logistics and helped manage a shipping company in Texas. She has over 15 years' experience in General Administration and several years in Management.
After working together since 2001…in 2018, they founded The Online Business Gurus. The OBGs mission is to show start-up businesses who want an online presence or well-established businesses that want to expand their online sales, the foundational steps they need in the online world. The OBGs teaches how build and/or manage their teams, install systems in their business and market their products and services business owners can create the strong foundation they need to build their success.
Listen to the podcast here:
Authentic Touch Points:
We booked this podcast before the quarantine…honest! 2:45
What's different about working virtually since the inception? 7:30
Some great tracking tools to help you stay on task. 10:00
Going from the office to working from home. 16:30
Great programs that you can use for free. 20:20
When you know it's time to hire some help. 30:20
Where and how to hire a VA or Freelancer. 35:20
Together, Valerie and Johnna currently have over 13 certifications in the marketing and automation areas. With Johnna's assistance we also helped a client to rank number 9 in the Twitter's Global Gurus Brand Top 30.
With many of us working from home and spending most of our time with family, I encourage you to reach out with thoughts or questions. Click here to contact me at your convenience or click the link below to book a call with me. You will also find more information about me at RoxanneDerhodge.com.
Thanks!
Roxanne
Links:
Online Business Gurus Website: https://theonlinebusinessgurus.com/
OBG's Free Checklist:  https://theonlinebusinessgurus.com/free-checklist/
Roxanne's previous podcasts: https://roxannederhodge.com/blog/  
Book a call with Roxanne: https://calendly.com/roxanne-8
Apps mentioned in the podcast:
Asana  TeamWork   Loom   Lucid Chart   Canva   Buffer   Hootsuite   Facebook       
Google Drive   Dropbox   Back Blaze   Last Pass   Zoom   Temi   What's App
Skype Slack YouTube Infusionsoft