Presentation Rockstars and the ROR: Return On Relationships with David Thomas (Part 1)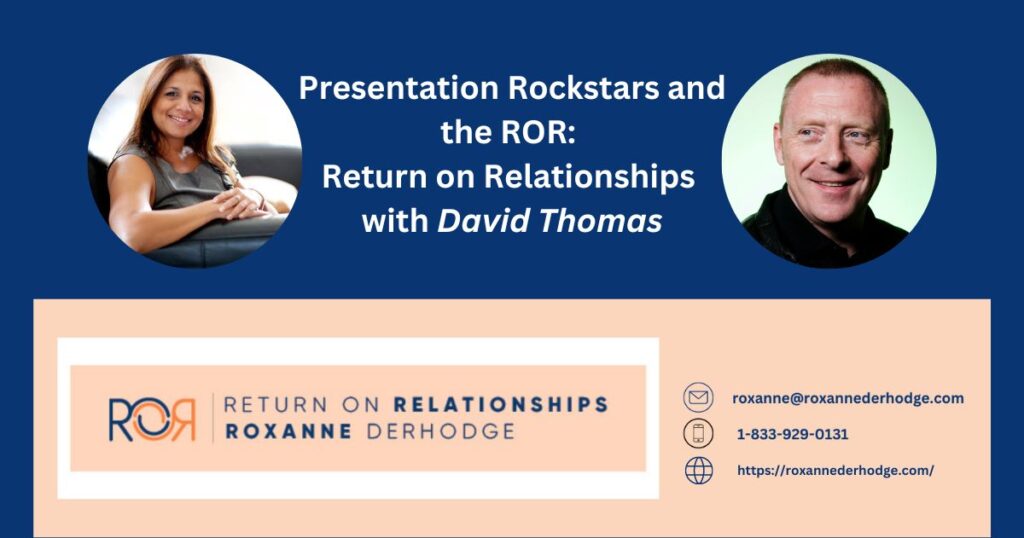 Do you think you give a great presentation? How do you feel when you're speaking in front of an audience, a group of co-workers, or employees? Do you think you're nailing it every time, or would you like your message to land better? We're not all natural-born speakers or communicators, but most of us do have the capacity to improve. On this episode of Authentic Living with Roxanne, we're excited to welcome David Thomas to share his ideas on helping executives become fantastic speakers and how it affects the ROR: Return On Relationships.
Quote: "Every leader has the chance to change the world every time they present. But that rarely happens."David Thomas
This was such a great interview packed with so much interesting information about mental health in the workplace that we decided to turn it into a 2-part series. Be sure to tune in again next week for part II.
David is a global speaker and CEO presentation skills coach who has coached and spoken to more than 500,000 people in 60 countries over the last 25 years. As the phrase goes, he's been around a bit. He's also a Sunday Times #1 bestselling author whose books have had a worldwide readership of more than 1 million people, as well as the US Memory Champion, Guinness record breaker and competitive bodybuilder. Because you can't get on stage too often wearing nothing but skimpy undercrackers and 10 gallons of fake tan. He's an all-around Yorkshire legend
Watch the video here: Presentation Rockstars and the ROR: Return On Relationships with David Thomas
Listen to the podcast here: Presentation Rockstars and the ROR: Return On Relationships with David Thomas
Authentic Touch Points:
David's journey to presentation coaching. 1:30
Learning memory techniques. 3:00
Become a rockstar! 6:00
Ego vs imposter syndrome. 9:00
Getting over the fear of speaking. 12:00
Climbing the corporate communication ladder. 17:00
Honest feedback, with kindness. 20:00
Getting from good to amazing. 23:30
David has spent 25 years sitting and watching leaders die in front of audiences. That makes him feel sad for them, sad for their audiences and sad for the missed opportunity to inspire, educate and entertain. His mission is to show leaders how to be amazing when they present. How to get their message across and transform the world in which we live. How to smash every presentation and, dare I even say it, how to enjoy the experience of giving a great speech! In short, what he does is turn leaders into presentation rockstars!
As I offer executive coaching, I encourage leaders to reach out for guidance about presenting their authentic selves to develop an improved workplace for everyone with less conflict.
I welcome you to book a complimentary discovery call: https://roxannederhodge.com/chat/ and take our online quiz to rate your authenticity as a leader: https://roxannederhodge.com/quiz
Stay Authentic,
Roxanne
Links:
David's website
David's LinkedIn profile
Roxanne's LinkedIn profile
Roxanne's email: roxanne@roxannederhodge.com