Mental Health for Leaders and the ROR: Return On Relationships (Part 2) with Dr. Ronke Komolafe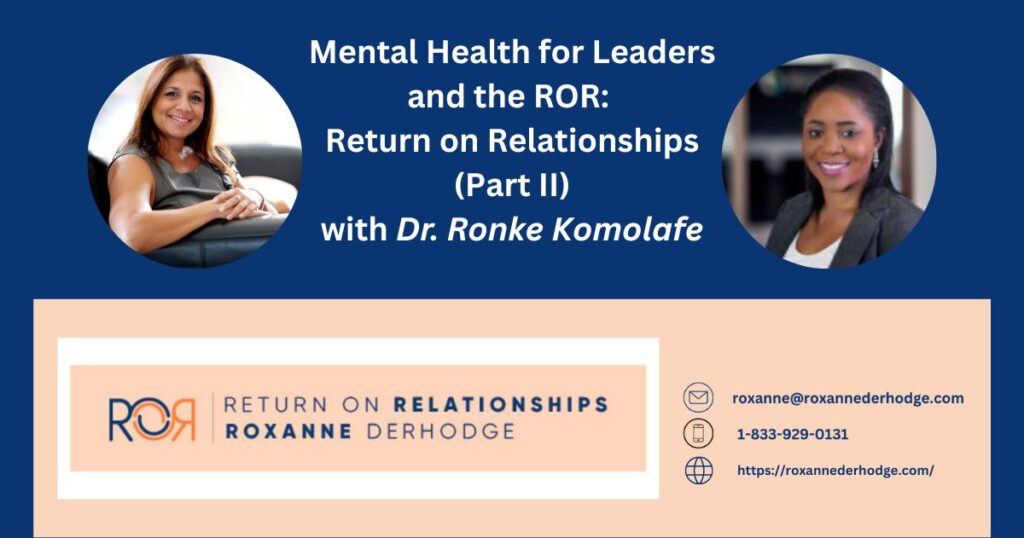 As leaders, mental health isn't at the top of our list of responsibilities. We should not only make sure our team is getting the job done, but we also need to be aware of how our team is functioning in the workplace and watch out for warning signs of mental and physical health struggles. On this episode of Authentic Living with Roxanne, we welcome Dr. Ronke Komolafe to share her expertise about recognizing the signs and how to assist those who need help.
Quote: "What I'm seeing right now in the workplace and even with my colleagues and friends is…we call it COVID PTSD." Dr. Ronke Komolafe
This was such a great interview packed with so much inspirational information that we decided to turn it into a 2-part series. Here's the link to Part 1: https://roxannederhodge.com/mental-health-for-leaders-and-the-ror-with-dr-ronke-komolafe/
Dr. Ronke is an executive leader with over 15 years of healthcare experience creating business value through systemic programs, evaluation, strategic planning, market expansion, product development, and revenue generation. She is the Board Chair and CEO of Integrated Physical & Behavioral Health Alliance, a business and market expansion Company that provides leadership and go-to-market strategies to healthcare and health IT Companies. She is also the Editor-in-Chief of Integrated Health Magazine, a thought leadership magazine focusing on integrated health approaches to care delivery and digital health.
Watch the video here: Mental Health for Leaders and the ROR: Return On Relationships (Part II) with Dr. Ronke Komolafe
Listen to the podcast here: Mental Health for Leaders and the ROR: Return On Relationships (Part II) with Dr. Ronke Komolafe
Authentic Touch Points:
It feels like a vacation. 2:00
Getting in front of mental health issues. 5:00
There is no security without trust. 11:30
Questions for leaders to ask. 17:30
As a boss, there's a fine line… 21:30
Paying it forward. 26:00
Dr. Ronke is an expert panel of the Forbes Business Council, the Vice Chair of the American Association for Doctors of Behavioral Health, the Vice President of HIMSS South Texas Chapter, and an Associate Professor at Morehouse School of Medicine. She also serves as an Advisory Board Member and Associate Professor at Cumming Graduate Institute of Behavioral Health. She has extensive experience in mental health, IT, Medicare, Medicaid, leadership, healthcare strategy, business development, integrated care, and healthcare regulatory affairs. Dr. Ronke is known for her multi-dimensional perspective on integrated and mental health and her passion for health innovation and advancement.    
As I offer executive coaching, I encourage leaders to reach out for guidance about presenting their authentic selves to develop an improved workplace for everyone with less conflict.
I welcome you to book a complimentary discovery call: https://roxannederhodge.com/chat/ and take our online quiz to rate your authenticity as a leader: https://roxannederhodge.com/quiz
Stay Authentic,
Roxanne
Links:
Dr. Ronke's website
Dr. Ronke's LinkedIn profile
Email to reach Dr. Ronke: info@ipbha.com
Register for future Leadership Forum events here
Roxanne's LinkedIn profile 
Roxanne's email: roxanne@roxannederhodge.com