Learning to Live Consciously with Katherine Jansen-Byrkit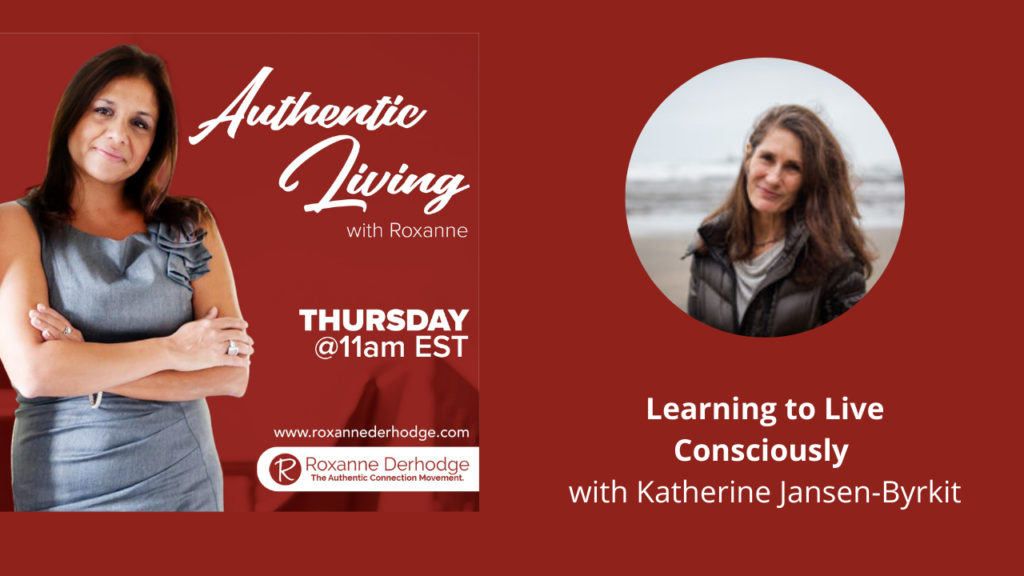 Quote: "Anxiety is driven by an anxious mind, the thoughts we believe and the rabbit holes we go down."  Katherine Jansen-Byrkit
How are you coping?  That is a question we should be asking those around us and especially those who are living alone at this unprecedented and uncertain time.  Many are struggling with anxiety, depression, loneliness, and a whole host of other issues.  On this episode of Authentic Living with Roxanne we welcome Katherine Jansen-Byrkit to share her insights about moving through the pandemic and beyond by learning to live consciously.
Katherine Jansen-Byrkit, MPH, LPC is an author, speaker, educator and Licensed Professional Counselor with over 15 years of clinical experience. She brings a holistic approach to her work with a focus on personal growth, relationship transformation and embodied wakefulness as part of one's spiritual path. 
Listen to the podcast here:
Learning to Live Consciously with Katherine Jansen-Byrkit
Authentic Touch Points:
Katherine's path from law to psychology.  2:30
The wake-up call of COVID.  6:30
Anxiety and body practices.  10:30
Self-care can bring clarity.  15:00
Finding healthy diversions.  20:00
Listen to the message of your subconscious.  26:30
Start to live consciously.  28:00
Katherine has dedicated her professional life to helping others.  She brings warmth and honesty to her work and brings the ideals of Public Health together with powerful elements of psychotherapy. She lives and works in Portland, Oregon. 
With many of us working from home and feeling the pressure of the pandemic, I encourage you to reach out with thoughts or questions about your own self-awareness and creating a healthier mindset.
I have created a new live coaching program to help you Create Healthier and More Authentic Relationships in your life. Click here to contact me at your convenience or click here to book a complimentary call with me.
Stay Authentic,
Roxanne
Links:
Katherine's website
Katherine's book:  Canada US
Roxanne's email: roxanne@roxannederhodge.com
Book a complementary Call with Roxanne
Roxanne's previous podcasts