Finding your Resilience When Adversity Strikes with Robert Foster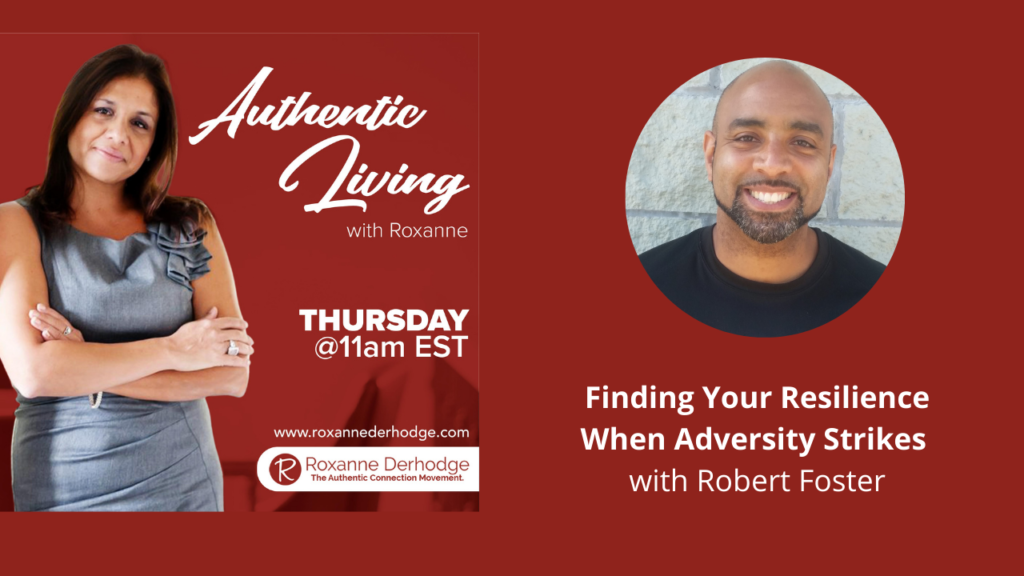 Quote: "It's so much easier to pull "BAD ASS" out of someone than it is to try to stuff it into someone who has never had it." Robert Foster
When tragedy strikes, how do you handle it?  Do you curl up and wallow in self-pity or do you stand up and fight for what you have lost?  On this episode of Authentic Living with Roxanne, we welcome Resiliency Expert, Robert Foster who joins us to share his story of overcoming adversity to take back control of his life when an injury threatened his livelihood.  
Robert finds fulfillment in helping others discover their calling in life and turn it into a thriving career. He also speaks regularly on the principles that have helped him build extraordinary resilience to weather the storms of life and come out victorious. Robert has grown into a highly sought-after inspirational speaker and life coach who regularly (pre-COVID, now virtually) inspires crowds at schools, business conferences, forums, and company training classes. He is vibrant, fun, and inspiring as a keynote guest and can fire up intimate crowds as well as large audiences.
Listen to the podcast here:
Authentic Touch Points:
Robert's path to becoming a champion. 2:00
The core mindset of an athlete. 4:30
Loving the first taste of victory. 9:30
The agony of injury. 11:30
Down, but not out. 15:30
Where resilience training starts. 20:30
Envision your goals to achieve greatness. 25:30
Pivoting from track champion to business coach. 29:00
Robert is a father, speaker, athlete, coach, and entrepreneur who looks to increase his reach through his virtual platforms, programs, and speaking events, allowing him to impact others' lives. He has a FREE gift for you which is his tried-and-true blueprint to become better at telling the stories of your life straight from his coaching program – Speak About Yourself Out Loud!
With many of us working from home and feeling the pressure of the pandemic, I encourage you to reach out with thoughts or questions about creating a healthier mindset.
I have created a new live coaching program to help you Create Healthier and More Authentic Relationships in your life. Click here to contact me at your convenience or click here to book a complementary call with me.
Thank you,
Roxanne
Links:
Robert's website
Robert's YouTube Channel
Roxanne's NEW Create Authentic Relationships course
Roxanne's email:  roxanne@roxannederhodge.com
Book a complementary Call with Roxanne
Roxanne's previous podcasts