Stuttering to Stardom with Joze Pirianian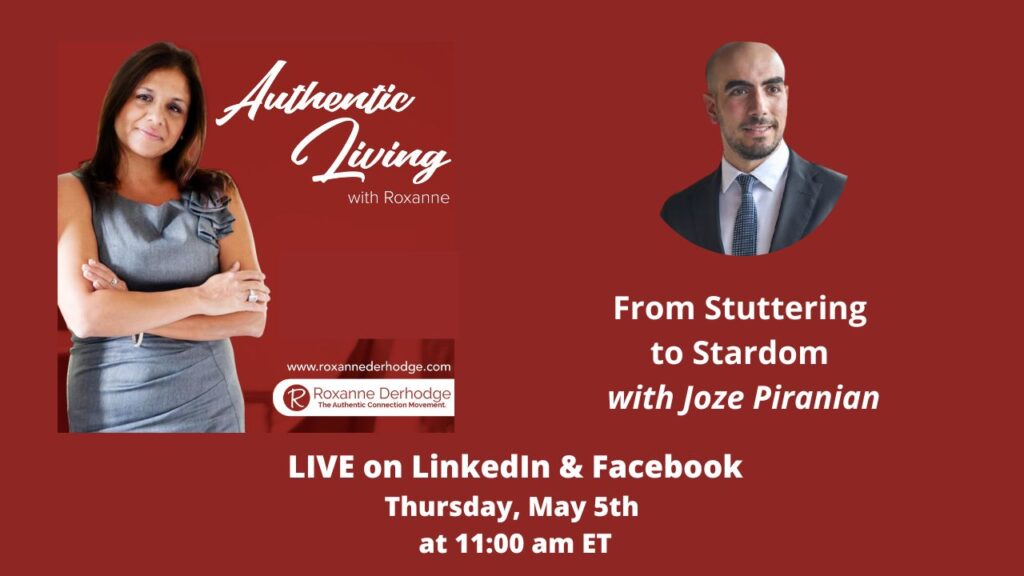 Quote: "You can all look at your fear in the eye and face it. Because only then can you really start to live." Joze Piranian
What makes you feel self-conscious or like you need to blend into the background in social situations? Most of us have felt some kind of social anxiety at one time or another, and if you're completely comfortable in a crowd, you need to know that you're very fortunate. On this episode of Authentic Living with Roxanne, we welcome Joze Piranian to share his story about stuttering and his journey of overcoming adversity and moving through to resiliency.
Joze is a lifelong stutterer turned Forbes-featured Global TEDx Speaker on Inclusion and Resilience. Born and raised in Lebanon, Joze avoided speaking for more than 25 years out of fear of being judged for being different. Then, everything changed. He won the Inspirational Speaker of the Year, delivered 5 TEDx talks and performed stand-up comedy on three continents and four languages. 
Watch the interview here: Stuttering to Stardom with Joze Piranian
Authentic Touch Points
Roxanne's thoughts on resilience. 2:00
Joze's story. 9:30
We all need to fit in. 12:30
Family support is priceless. 18:00
Creating a space to feel safe in. 22:00
Getting to 5 TEDx talks! 24:30
Challenged myself to speak to 100 strangers. 31:00
The fulfillment of overcoming obstacles. 37:30
Becoming more resilient. 41:00
Joze has since delivered hundreds of stand-up comedy and speaking engagements about stuttering, Inclusion and Resilience at Google, Tesla, TikTok, Dell, IBM, and educational institutions and conferences worldwide. With more than 3,000,000 views on Goalcast, Joze has also been featured on TEDx, ABC, Forbes, John Krasinski's Some Good News and CBC.
As we move toward reopening workspaces and gathering again, I encourage leaders to reach out for guidance about presenting their authentic self to develop an improved workplace for everyone with less conflict as I offer executive coaching.   Click here to contact me at your convenience, or click here to Chat with Roxanne!
Take our online quiz to rate your authenticity as a leader!
Stay Authentic,  
Roxanne
Links:
Joze's website: https://www.jozepiranian.com/
Joze's LinkedIn profile: https://www.linkedin.com/in/jozepiranian/
TEDx Talks: https://www.ted.com/search?q=joze%20piranian
Roxanne's LinkedIn profile: https://www.linkedin.com/in/roxannederhodge/ 
Roxanne's email: roxanne@roxannederhodge.com
Chat with Roxanne: https://roxannederhodge.com/chat/ 
Roxanne's previous podcasts: https://roxannederhodge.com/blog/