Developing Leadership Skills for Managers with Tom Lawrence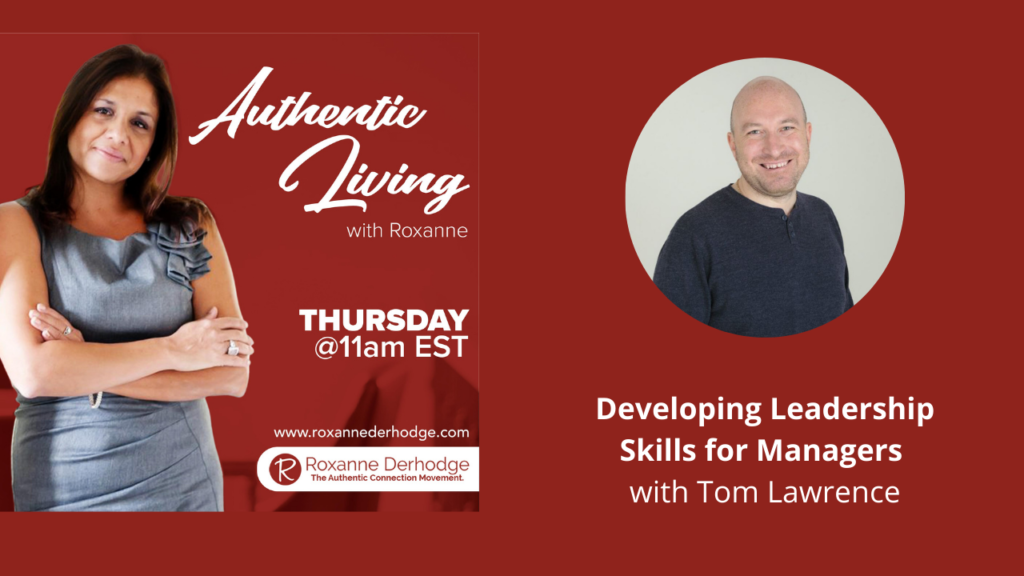 Authentic Life Quote: "Too often I've seen middle managers that don't have leadership skills that service their people.  They don't think that serving their people is what leadership is all about."  Tom Lawrence
What does it take to be a good leader?  We have all seen it before…someone in the company gets promoted to management level and lacks the skills to be an effective leader.  Just because you're great at your job, doesn't automatically make you a good leader.  On this episode of Authentic Living with Roxanne, we welcome (all the way from the UK) Tom Lawrence to share his knowledge about what it takes to become a highly effective leader.
Tom began his career in 1999 as an apprentice mechanical engineer, working for an automotive company in Liverpool, UK.  After completing his apprenticeship, he was made redundant from that company and had to find other work, that is when he joined the rail industry working for Merseyside's train operator. He worked there for six years, and during that time he achieved his degree in mechanical engineering, his master's degree in maintenance engineering, and he started his first leadership role as a project manager in 2009.
After leaving Liverpool in 2011, he has worked in Edinburgh, Glasgow and London where he currently lives. Tom became a chartered engineer in 2013 and is a mentor for new and upcoming engineers working towards their chartership. Working in these different cities he had remained within the rail industry and led different types of engineering teams, learning and practicing different leadership styles.
Listen to the podcast here:
Authentic Touch Points:
Tom's journey to leadership.  1:30
Does the industry matter in regard to people skills?  4:00
Manager vs Leader.  8:30
It's all about connection.  11:30
Virtual leadership & trust.  14:30
Use the pandemic as an opportunity to improve.  18:30
It's okay to make mistakes.  22:30
Step to help you become a great leader.  24:30
Tom has vowed to make it his life's work to develop leaders and aspiring leaders into highly effective leaders so that, they can develop leaders and aspiring leaders into highly effective leaders.  He hopes the information that is provided through his books, goes some way towards helping you achieve all you ever wanted from your career as a leader.  Tom can see a world in which our leaders create environments that focusses on people and helps them to learn to lead, grow, and increase their influence for the good of us.
With many of us working from home and feeling the pressure of the pandemic, I encourage you to reach out with thoughts or questions about creating a healthier mindset.
I have created a new live coaching program to help you Create Healthier and More Authentic Relationships in your life.  Click here to contact me at your convenience or click here to book a complimentary call with me.  
Stay Authentic,
Roxanne
Links:
Tom's website
Tom's articles
Tom's book
Tom's YouTube Channel
Roxanne's email:  roxanne@roxannederhodge.com
Book a complementary Call with Roxanne
Roxanne's previous podcasts