Using Creative Strategies to Combat Uncertain Times with Natalie Nixon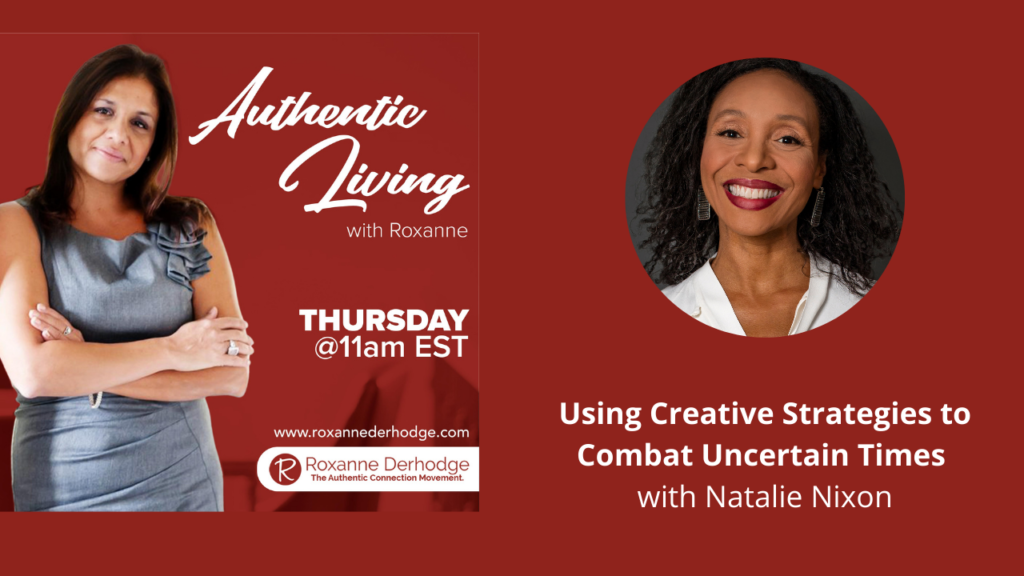 Quote: "Days of uncertainty are designed for creativity."  Natalie Nixon
As we move into 2021, we are still in the middle of the pandemic and facing another lockdown as COVID rages throughout our nation and the rest of the world.  In these uncertain times, we need to find new and creative ways to keep moving forward and find out footing.  On this episode of Authentic Living with Roxanne, we welcome Natalie Nixon who will share her ideas on how creative strategies can help combat uncertain times.       
Natalie changes lives through ideas so that people build their creative confidence for years to come, get paid their worth and make an impact.  As president of Figure 8 Thinking, she helps leaders apply creativity and foresight to achieve transformative business results and amplify value.
Listen to the podcast here:
Authentic Touch Points:
Creativity loves a hot mess.  1:45
When work and home blur together.  4:30
People crave connection.  9:00
Defining creativity and rigor.  11:00
The value of the pause.  13:00
Uncertainty can breed creativity.  16:30
Finding the benefit of uncertainty.  20:45
Natalie is the author of The Creativity Leap: Unleash Curiosity, Improvisation and Intuition at Work, is a regular contributor to INC. and a Fellow of the Royal Society of Arts. She is a member of the Forbes Coaches Council and is certified as a Foresight Practitioner by the Institute for the Future.
With many of us working from home and feeling the pressure of the pandemic, I encourage you to reach out with thoughts or questions about creating a healthier mindset. Click here to contact me at your convenience or click here to book a complementary call with me.
You can find more information about me and how I can help you live a more authentic and resilient life at RoxanneDerhodge.com
Thank you,
Roxanne
Links:
Natalie's website
Free chapter of Natalie's book
Natalie's book
Roxanne's email:  roxanne@roxannederhodge.com
Book a complementary call with Roxanne
Roxanne's previous podcasts