Creating Good Social Health Through Connection Part 2 with Pete Bombaci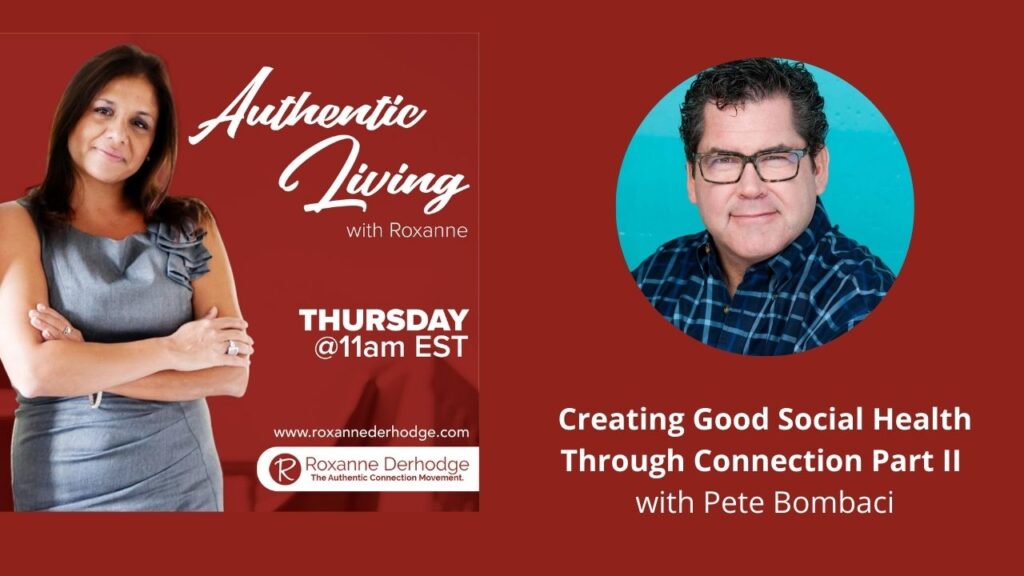 Social Health Quote: "When we connect with other people, it helps us cope, it helps us find solutions, and it helps us build the resilience that gets us through not only the bad times but also celebrating the good times."  Pete Bombaci
When the pandemic first hit, we thought it would be over in a matter of weeks. Now here we are, almost two years later, and we're still in the thick of it. We're all in a place that we've never been before, and many are struggling, especially those who live alone or work from home. On this episode of Authentic Living with Roxanne, we have invited connection expert Pete Bombaci back to discuss how the pandemic has affected our social connections and how we can help those who need it most.
Pete is an expert in the field of human connection and the founder of The GenWell Project – a Canadian organization dedicated to making the world a healthier and happier place by educating people about the importance of proactive face-to-face social connection and inspiring them to take action.
I had such a wonderful and information-filled chat with Pete about social health last week that we decided to turn it into a 2-part series. In case you missed last week, here's the link to Part I  It's not mandatory that you listen to it first, but I recommend that you do. There's so much amazing content; it would be a shame for you to miss out on any of it.
Listen to the podcast here: Creating Good Social Health Through Connection Part 2 with Pete Bombaci
Authentic Touch Points:
Reach out to those around you.  2:00
Ask for what you need.  6:00
The power of an outreach.  10:00
It feels great to give back.  15:00
Helping helps you too.  19:00
We need to be each other's support system.  29:00 
Following a successful career in the beverage industry, Pete ventured into the world of charities and not-for-profits by heading up Movember Canada. Under his leadership, Movember Canada grew to become the number one fundraising country in the world, raising 142M dollars. After nearly five years, Pete left Movember Canada and has since focused on the rollout of his passion project, The GenWell Project.
Although society was in need of a Human Connection Movement before the global pandemic, Covid-19 has raised the collective consciousness about the need for greater human connection in the world, and The GenWell Project is the catalyst that hopes to make that a reality.
As we move toward reopening workspaces and gathering again, I encourage leaders to reach out for guidance about presenting their authentic self to develop an improved workplace for everyone with less conflict as I offer executive coaching. Click here to contact me at your convenience, or click here to Chat with Roxanne!
Stay Authentic,
Roxanne
Links:
The GenWell Project
Social Survey Results
Pete's LinkedIn profile
Pete's previous podcast with Roxanne
Roxanne's LinkedIn profile
Roxanne's email: roxanne@roxannederhodge.com
Download Roxanne's book