Creating Human Connection in Uncertain Times with Pete Bombaci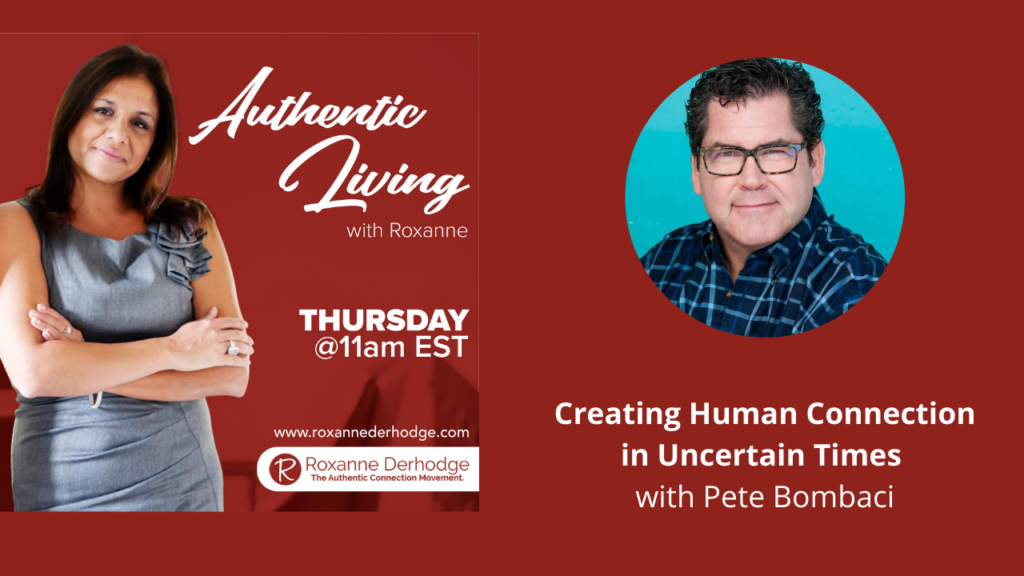 Quote: "The single greatest prevention that we can take to avoid depression is our good old social connection." Pete Bombaci
Being in the midst of a global pandemic and currently in lockdown doesn't make it easy to stay connected with people outside of your immediate household and for those who live alone, it's nearly impossible to connect with others on a daily basis. On this episode of Authentic Living with Roxanne, we welcome Pete Bombaci to discuss how we can all work to feel more connected in a time when we're literally bound by law to stay apart.
Pete is an expert in the field of human connection and the founder of The GenWell Project – a Canadian organization dedicated to making the world a healthier and happier place by educating people about the importance of proactive face-to-face social connection and inspiring them to take action. Following a successful career in the beverage industry, Pete ventured into the world of charities and not-for-profits by heading up Movember Canada. 
Listen to the podcast here:
Authentic Touch Points:
What inspired Pete to leave corporate for non-profit.  2:30
Why we all need human connection.  6:00
The barriers we have created.  11:00
Re-learning to create attachment.  15:00
Remember when everyone used to say hi?  19:00
The inspiration for the creation of GenWell.  20:45
How you can become involved in creating connection.  25:00
Under Pete's leadership, Movember Canada grew to become the number one fundraising country in the world, raising 142M dollars. After nearly five years, Pete left Movember Canada and has since focused on the roll out of his passion project, The GenWell Project. Although society was in need of a Human Connection Movement prior to the global pandemic, Covid-19 has raised the collective consciousness about the need for greater human connection in the world and The GenWell Project is the catalyst that hopes to make that a reality.
With many of us working from home and feeling the pressure of the pandemic, I encourage you to reach out with thoughts or questions about creating a healthier mindset. Click here to contact me at your convenience or click here to book a complementary call with me.
You can find more information about me and how I can help you live a more authentic and resilient life at RoxanneDerhodge.com
Thank you,
Roxanne
Links:
The GenWell Project: https://genwellproject.org/
Roxanne's Create Authentic Relationships course:  https://roxannederhodge.com/coaching/
Roxanne's email:  roxanne@roxannederhodge.com
Book a complementary call with Roxanne
Roxanne's previous podcasts