Thriving Through Trauma and Adversity…No Matter What with Heather Reid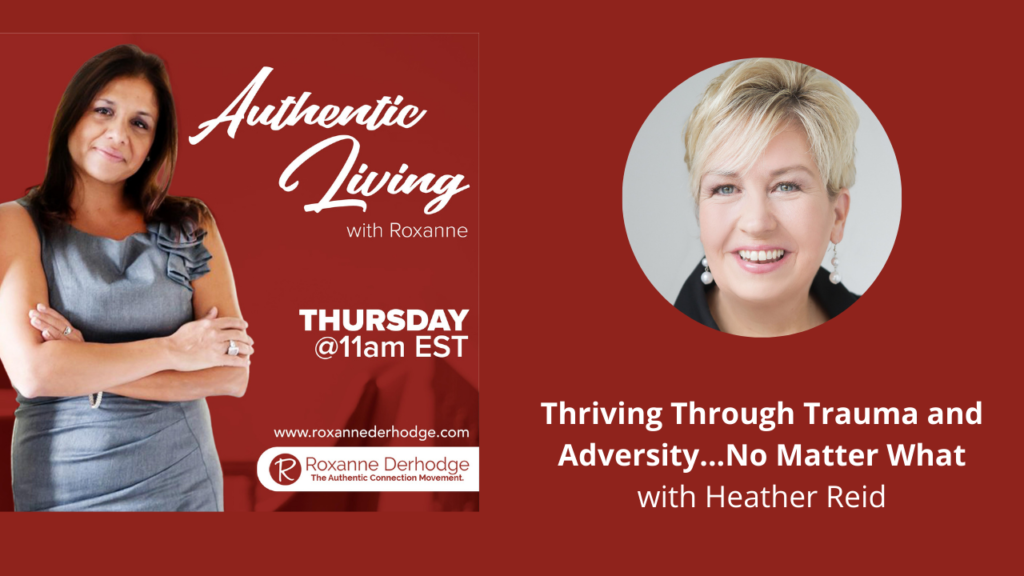 We all know that traumatic events in our lives can print an indelible mark on our psyche, but how do we move through the aftermath to see a better outcome on the other side? On this episode of Authentic Living with Roxanne, we welcome Heather Reid who will share her stories of pain, the damage it did and how she moved beyond her own issues to become an example and a voice for her own children in their times of need.
Heather is no stranger to change and challenges in her personal life. She is a survivor of sexual trauma in her youth, and the mom of two adult children with thought-provoking life stories of their own! By candidly sharing the lessons she has learned throughout her life, Heather hopes to help others on their own journeys of change and challenges.
Listen to the podcast here:
Subscribe To The Podcast
Authentic Touch Points:
Defining success – it's different for everyone. 2:45
Dealing with childhood trauma. 9:00
Coping when there's no help available. 14:15
Finding the steps to get beyond it. 19:00
Seeing your kids through their trauma. 24:15
Giving your kids a voice. 29:00
We all need to be heard. 33:30
Turning the tables on trauma. 38:15
With more than 25 years' experience in the Canadian meetings and events industry as an entrepreneurial event planner and an award-winning industry consultant, Heather is no stranger to change and challenges in her professional life too. Since 1994, she has owned a full-service event planning agency, and in 2016 founded the award-winning consulting agency known as Planner Protect Inc. – a company dedicated to addressing the niche need for education and consulting services for event contract negotiations. Heather has received awards for her thought leadership and commitment to the events industry including a Smart Women in Meetings award in the "Innovator" category, and the Meetings & Incentive Travel Canada's Hall of Fame award – also in the "Innovator" category.
With many of us working from home and feeling the pressure of the pandemic, I encourage you to reach out with thoughts or questions about creating a healthier mindset. Click here to contact me at your convenience or click here to book a complementary call with me.
You can find more information about me and how I can help you live a more authentic and resilient life at RoxanneDerhodge.com
Thank you,
Roxanne
Links:
Heather's website: https://plannerprotect.ca/
Heather's phone: 519-318-5194
Heather's email: heather@plannerprotect.ca
Roxanne's email: roxanne@roxannederhodge.com
Book a complementary call with Roxanne
Roxanne's previous podcasts