Strategic Leading Through an Authentic Lens with Dr. Erika Michalski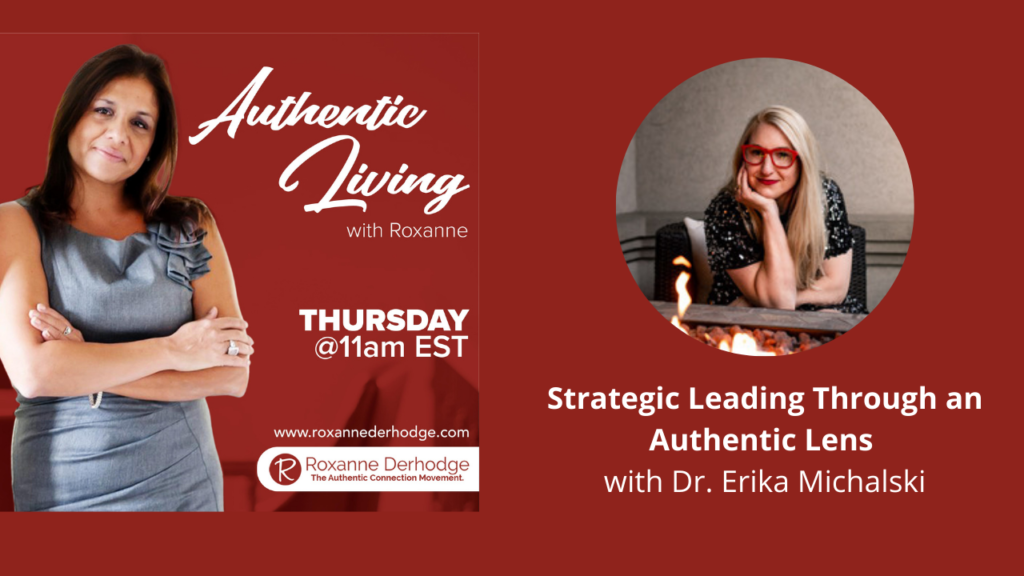 Quote: "How would the mental load shift if the lens of success and the metric of accomplishment became an internal concept rooted in authenticity, rather than an external driver?" Dr. Erika Michalski
Authentic leadership is a topic that is very near and dear to me. My upcoming book is based on this very idea and is due to be released in the Fall of 2021. I have a great affinity for discussing authentic leadership so on this episode of Authentic Living with Roxanne, we welcome Dr. Erika Michalski to discuss her thoughts on creating a more productive and cohesive workspace by leading through an authentic lens.
Dr. Erika Michalski has a robust history of providing energetic keynotes, developing large-scale educational programming, and facilitating engaging workshops dedicated to empowering participants and cultivating new ideas about professional development through a lens of authenticity. Erika is passionate about creating environments where individuals feel equipped to tackle new challenges as they move forward in personal and professional endeavours.
Listen to the podcast here:
Strategic Leading Through an Authentic Lens
Authentic Touch Points:
An authentic sign-off.  2:30
How Strategically Authentic was founded.  6:00
Not everyone is ready to be their authentic self.  11:00
Finding an opening to empower authenticity.  14:00
Everyone needs to feel valued.  18:00
Our authenticity is constantly evolving.  22:30
The advantages of being a trusted leader.  28:15
To further her work, Erika founded Strategically Authentic, a consulting company dedicated to helping people leverage who they are to get where they want to be. She proudly serves as the company's CEO (Chief Encouragement Officer), embracing her roots as a competitive cheerleader and collegiate cheerleading coach to the benefit of everyone she encounters. Dr. Michalski is known by clients and colleagues as the one who believes in even the most ambitious possibilities as long as there is a plan!
With many of us working from home and feeling the pressure of the pandemic, I encourage you to reach out with thoughts or questions about your own self-awareness and becoming a more authentic leader through connection.
I have created a new live coaching program to help you Create Healthier and More Authentic Relationships in your life and get more connected to your authentic self. Click here to contact me at your convenience or click here to book a complimentary call with me.
Stay Authentic,
Roxanne
Links:
Erika's LinkedIn profile
Erika's Instagram profile
Roxanne's email: roxanne@roxannederhodge.com
Book a complementary Call with Roxanne
Roxanne's previous podcasts