History, Female Leadership and Happiness (Part 2) with Wendelijn van der Leest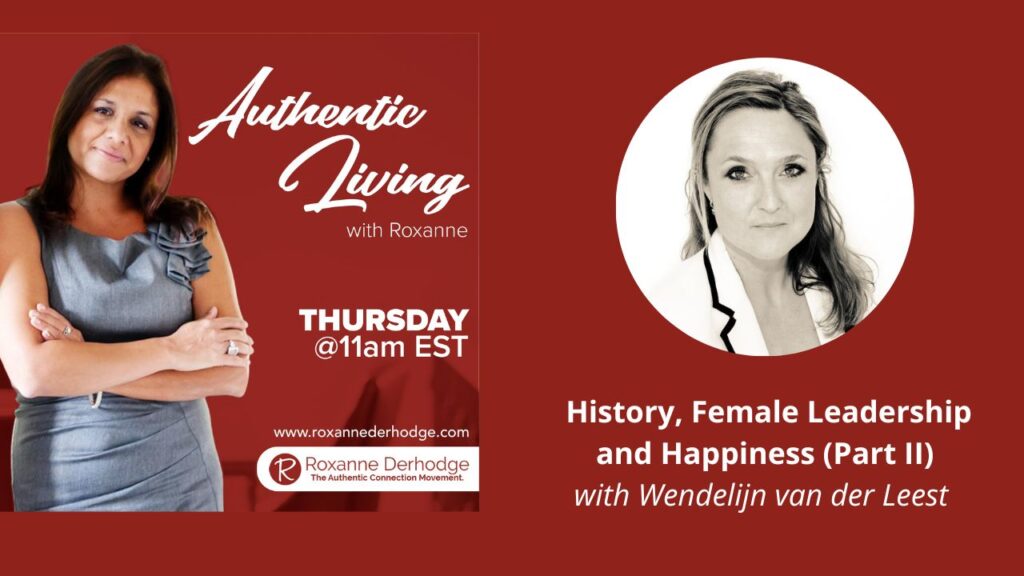 Quote: "We have to express our accomplishments and our roles to inspire others to be daring and to be courageous to bring our hearts and leadership to the table." Wendelijn van der Leest
This was such a great interview packed with so much inspirational information that we decided to turn it into a 2-part series. Here's the link to Part 1: https://roxannederhodge.com/female-leadership-and-happiness-with-wendelijn-van-der-leest/
History books are full of facts and stories about men that have been written since the beginning of time, but what about their female counterparts? It has only been in the last few decades that much research has been done to showcase women in ancient history. To help bring some of their stories to light and discover their amazing accomplishments, we're thrilled to welcome Historian and Female Leadership Expert Wendelijn van der Leest to share some of her knowledge about women in history and how they have paved the way for current female leaders.
Wendelijn is a historian, female leadership expert and mom of two living in the Netherlands. Although she holds degrees and Ph.D. work in both ancient and contemporary history, her heart and research lies at the intersection of female leadership and the themes of happiness and success in ancient Roman society. Her research on Roman women has inspired her own life and work, generating the courage to deal with internal and external limitations, communicate her accomplishments aligned to her heart and have trust in her network of support. 
Watch the podcast here: History, Female Leadership and Happiness (Part II) with Wendelijn van der Leest
Listen to the podcast here: History, Female Leadership and Happiness (Part II) with Wendelijn van der Leest
Authentic Touch Points:
Female leadership through the ages. 3:00
Transformational qualities that women need. 8:00
Women need to be each other's allies. 12:00
Happiness and female leadership. 18:00
For the greater good. 22:00
The 3 Key Learnings. 26:00
The state of Sisterhood. 32:00
With 'Geschiedenisschrijven' ('Writing History') Wendelijn connects people and businesses to their magnificent histories, to utilize the knowledge, inspiration and solutions that so often lies dormant. Wendelijns motto: I am committed to history. Not just for what it reveals about the past, but for what it reveals about me, my community, my nation and the world at large. History is a tool to help us into the future."
As I offer executive coaching, I encourage leaders to reach out for guidance about presenting their authentic selves to develop an improved workplace for everyone with less conflict. Click here to contact me at your convenience, or click here to Chat with Roxanne!
Take our online quiz to rate your authenticity as a leader!
Stay Authentic,
Roxanne
Links:
Wendelijn's website
Wendelijn's LinkedIn profile
Roxanne's LinkedIn profile
Roxanne's email: roxanne@roxannederhodge.com
Chat with Roxanne
Roxanne's previous podcasts