Seeking Calm Amongst the Chaos with Dr. Karyne Messina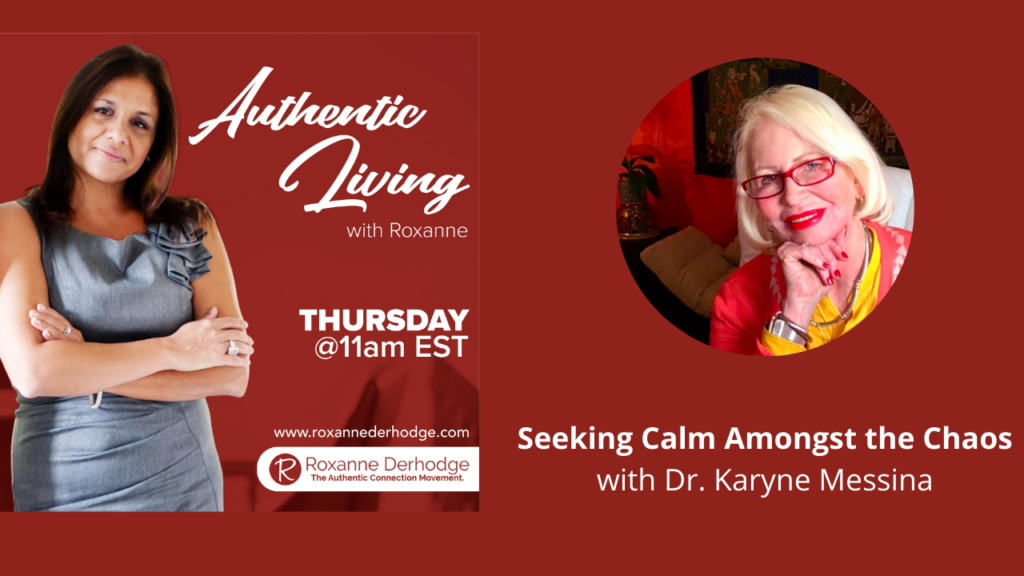 This past year has thrown many of us into a state of chaos and we find ourselves seeking calm.  
Quote: "I think people are really scared and they're anxious and part of that has to do with living in a time that no one has lived in before." Dr. Karyne Messina
With the pandemic, US election controversy, racial tensions and lockdowns, people are looking for coping mechanisms and ways to move through the negative feelings that the constant stream of adverse news has created.  On this episode of Authentic Living with Roxanne, we welcome Dr. Karyne Messina to have a frank discussion about how we can start the healing process and move forward. 
Dr. Karyne Messina is a psychologist and psychoanalyst. In addition to having a private psychotherapy practice in Chevy Chase, MD, she is a faculty member of the Washington Baltimore Center for Psychoanalysis. She is also on the medical staff of Suburban Hospital, a Johns Hopkins Medicine facility in Bethesda Maryland. She is also the Dean of Students for the China American Psychoanalytic Affiliation (CAPA) and is the editor of the CAPA newsletter. Prior to her work as a psychologist and psychoanalyst, she worked at George Washington University (GW) as the Director of Counseling Services in the Division of Continuing Education. 
Listen to the podcast here:
Authentic Touch Points:
How Karyne found her way to psychology.  2:00
Projective Identification or Blame Shifting.  7:00
Can you believe what's happening?  13:00
How do we start to heal?  19:30
Moving through the fear.  28:30
How people are coping…or not.  32:30
Lessons we're learning from slowing down.  37:30
Tips for moving forward.  42:00
Karyne's first book published in 2019 is entitled, Misogyny, Projective Identification and Mentalization: Psychoanalytic, Social and Institutional Manifestations. Her second book, Aftermath: Healing from the Trump Presidency is available on Amazon. Her third book, Aftershock: How Trumpian Projective Identification and the Resurgence of Populism are Changing the Political Landscape Around the Globe will be published by Routledge in the Fall of 2121. Her fourth book, It's Not Me, It's You! How Narcissists Get What They Want and How to Stop Them focuses on the relationship between narcissism and projective identification. It will be available in 2022.
With many of us working from home and feeling the pressure of the pandemic, I encourage you to reach out with thoughts or questions about your own self-awareness and creating a healthier mindset.
I have created a new live coaching program to help you Create Healthier and More Authentic Relationships in your life. Click here to contact me at your convenience or click here to book a complimentary call with me.
Stay Authentic,
Roxanne
Links: 
Karyne's website
Karyne's books 
Karyne's email: dr.karynemessina@gmail.com
Roxanne's email: roxanne@roxannederhodge.com
Book a complementary Call with Roxanne
Roxanne's previous podcasts