How to Create Online Authenticity with Patricia Regier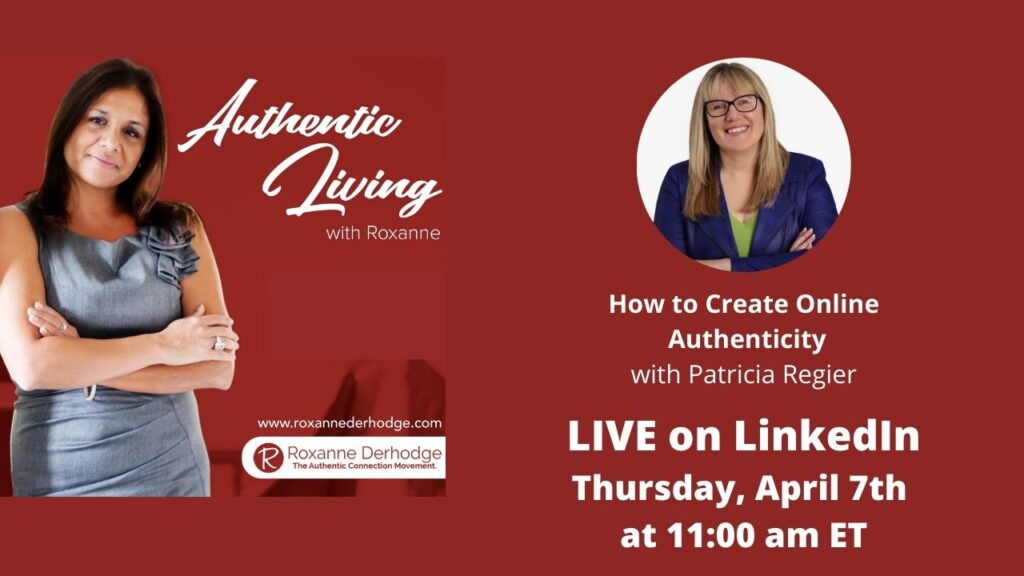 Quote: "Authenticity online is considering the learning experience journey, when we intentionally design a space where people can connect with the content and each other." Patricia Regier
We're doing a LIVE session of the podcast for this episode and hope that you enjoy the video option available on our website. We hope it helps to create a more authentic experience for you.
How is your online presence? Do you feel like you portray your whole self when you're online, or do you only show what you think people want to see? In order to create a more genuine experience for those you're in a meeting or event with, you need to learn how to be yourself. On this episode of Authentic Living with Roxanne, I'm thrilled to have my friend and Expert Facilitator Patricia Regier join us LIVE to share her tips and strategies about what it takes to create online authenticity.
Patricia is the Online Expert who's built a career on the belief that training doesn't have to be boring. Her debut book, The Online Shift: 101 Pro Tips for Online Facilitators, Workplace Trainers & Virtual Speakers, teaches newcomers to the online space and seasoned professionals alike to optimize their online presence and maximize engagement.
Watch the podcast here: How to Create Online Authenticity with Patricia Regier
Listen to the podcast here: How to Create Online Authenticity with Patricia Regier
Authentic Touch Points:
How Patricia became an online expert. 2:00
Don't be afraid to be yourself. 4:30
Online issues and how to fix them. 11:00
Icebreakers to get started. 14:30
Camera, on or off? 18:30
The evolution of online. 23:00
Owner of Regier Educational Services, Patricia was focused on online before online became every day. She's tried, tested and refined using the latest behavioural science, research and psychology to ensure your next online experience is a hit!
Learn how you can create online authenticity with Roxanne and Patricia.
As we move toward reopening workspaces and gathering again, I encourage leaders to reach out for guidance about presenting their authentic self to develop an improved workplace for everyone with less conflict as I offer executive coaching. Click here to contact me at your convenience, or click here to Chat with Roxanne!
Take our NEW Online Quiz to rate your authenticity as a leader!
Stay Authentic,
Roxanne
Links:
Patricia's website
Find Patricia's book here
Patricia's LinkedIn profile
Roxanne's LinkedIn profile
Roxanne's email: roxanne@roxannederhodge.com
Chat with Roxanne
Roxanne's previous podcasts