How Leaders Can Be More Effective Regarding Mental Health in the Workplace with Bernie Dyme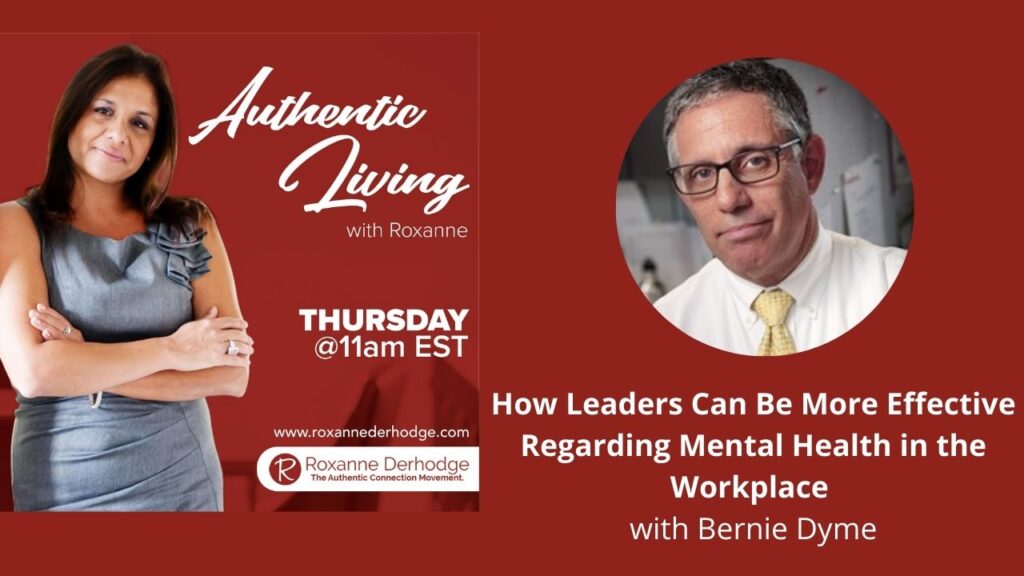 Mental Health Quote: "Leaders are struggling with culture, how to maintain a culture and closeness and some kind of sense of intimacy that's good for business as well, remotely." Bernie Dyme
At this point in time, we're all looking for some return to "normalcy". As the pandemic continues, (and it doesn't seem like there is any end in sight) we continue to struggle through the challenges and are doing our best to keep moving forward. On this episode of Authentic Living with Roxanne, we welcome EAP expert, Bernie Dyme to share his thoughts about the increase of EAP and mental health services being utilized and helping leaders design a safe and mentally healthy workspace for their teams.
Bernie gave us so much great information that we are splitting this into a two-part series, so be sure to tune in again next week for Part II.
Since co-founding Perspectives Ltd in 1981, President and CEO Bernie Dyme has helped developed an organization committed to delivering the highest-quality workplace resource programs. Bernie continues to create a balanced approach between cost savings and safe, healthy, and productive workforces.
Watch the podcast here: How Leaders Can Be More Effective Regarding Mental Health in the Workplace with Bernie Dyme
Authentic Touch Points:
We bring our whole selves to work. 2:30
Creating a safe workspace in person or virtually. 6:30
We're utilizing EAP more now than ever! 13:00
Establishing relationships in the "new abnormal". 17:30
Show up to create a mentally fit workplace. 20:30
Throughout his career, Bernie has used his formal clinical training and business experience to provide consulting services to hundreds of organizations. He is an active member of more than a dozen professional and community organizations. Bernie has also served as the president of the board of the Chicago Coalition for the Homeless. Bernie is a licensed clinical social worker (LCSW). He has a master's degree in social work from The University of Chicago.
As we move toward reopening workspaces and gathering again, I encourage leaders to reach out for guidance about presenting their authentic self to develop an improved workplace for everyone with less conflict as I offer executive coaching. Click here to contact me at your convenience or click here to Chat with Roxanne!
Stay Authentic,
Roxanne
Links:
Bernie's website
Bernie's LinkedIn profile
Roxanne's LinkedIn profile
Roxanne's email: roxanne@roxannederhodge.com
Chat with Roxanne
Roxanne's previous podcasts