Mediating Workplace Conflict and the ROR: Return On Relationships (Part 2) with Avinder Laroya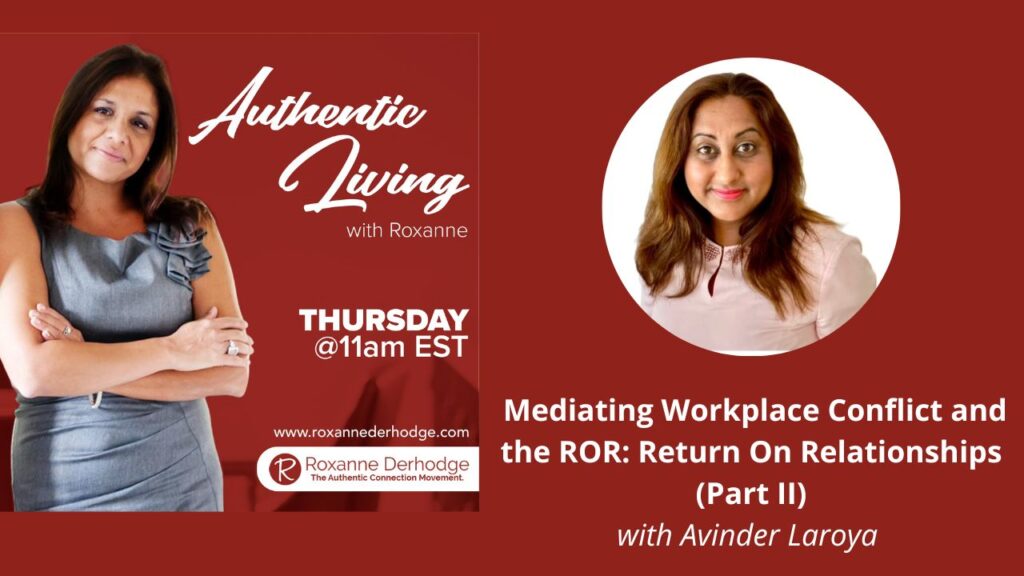 Workplace Conflict does affect the ROR: Return On Relationships
Quote: "Often managers or board members…we're all trained in our technical abilities. Often it's technical people that become promoted to managerial or board member roles. But that doesn't necessarily mean that they're great communicators or great facilitators. These are specialist skills." Avinder Laroya
We have all experienced conflict at some point in our lives, whether it was at work, at home or with a friend. When we're in that space, we often think with emotion rather than logic, and things can easily escalate to become a much larger issue. When this happens in the workplace, we may need some help to work through the issue(s). On this episode of Authentic Living with Roxanne, we welcome Avinder Laroya all the way from Switzerland to share her expertise about mediating workplace conflict and how it affects the ROR.
This was such a great interview packed with so much inspirational information that we decided to turn it into a 2-part series. Here's the link to Part 1: https://roxannederhodge.com/mediating-workplace-conflict-ror-with-avinder-laroya/
Avinder is a multi-lingual English Solicitor, Mediator, Chartered Arbitrator, and Entrepreneur with over 20 years of experience in private practice in London, UK and is now based between London, UK and Lausanne, Switzerland. She is a specialist in international dispute settlement with an LLM in International Dispute Settlement (MIDS).
Watch the video here: Mediating Workplace Conflict and the ROR: Return on Relationships (Part II) with Avinder Laroya
Listen to the podcast here: Mediating Workplace Conflict and the ROR: Return on Relationships (Part II) with Avinder Laroya
Authentic Touch Points
Logic vs aggression 2:30
The privilege of gaining trust 6:30
Tips for corporate leaders 10:00
Staying true to company culture 16:00
How the mediation process works 18:00
Transference, biases, and emotions 21:30
Hierarchy and support structures 23:30
Active listening 29:00
Avinder has more than 20 years of experience as a private practice lawyer, first for London firms and then at her own virtual law firm Serenity Law LLP, since 2010. Her services extend to a diverse client base and include real estate, corporate commercial, intellectual property, litigation, mediation, and arbitration.
As I offer executive coaching, I encourage leaders to reach out for guidance about presenting their authentic selves to develop an improved workplace for everyone with less conflict.
I welcome you to book a complimentary discovery call: https://roxannederhodge.com/chat/
Take our online quiz to rate your authenticity as a leader: https://roxannederhodge.com/quiz
Stay Authentic,
Roxanne
Links:
Avinder's website
Mediation Tools
Why Employees Are Afraid to Speak Up
Avinder's LinkedIn profile
Roxanne's LinkedIn profile
Roxanne's email: roxanne@roxannederhodge.com