Living…Not Leaving Your Legacy with Codi Shewan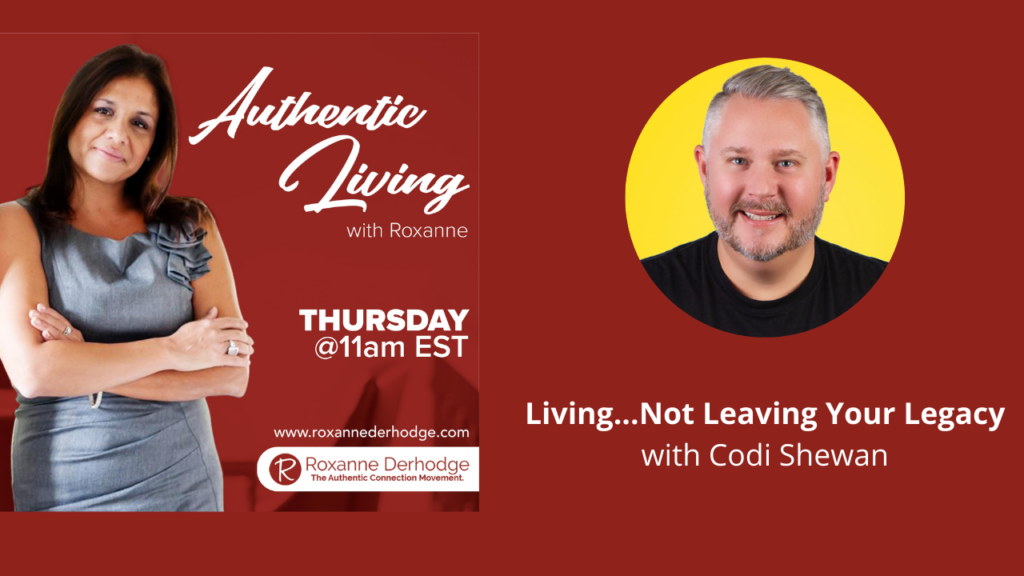 Do you ever think about what people will say about you when you're gone…how you will be remembered? What if you started acting the way you want to be remembered – right now – and shared your unique gifts with the world? On this episode of Authentic Living with Roxanne, we welcome keynote speaker and author, Codi Shewan to discuss how you can start to LIVE your legacy today.
Codi Shewan is a professional speaker, trainer, consultant, and in 2020, became the best-selling author of the critically acclaimed, Everyday Legacy: Lessons For Living With Purpose, Right Now. His passion for empowering others to see the best in themselves and to redefine their legacy – from something they leave to something they live, every day – is the driving force behind his work! 
Listen to the podcast here:
Authentic Touch Points:
Learning about life while surrounded by death.  2:30
Shifting to living a legacy.  6:00
Adapting in uncertain times.   12:00
Echoes of regret.  15:00
What will people say when I'm gone?  19:00
Keeping yourself full.  22:00
Simple but powerful exercise.  24:30
Make a difference every day!  27:30
Codi's mission is to inspire and help others establish a clear path to success. He's a motivational powerhouse; his lively talks champion excellence, inspire unconventional thinking, and energize crowds! He is also passionate about giving back and in 2021, he'll take the helm as the President of the Canadian Association of Professional Speakers – Toronto Chapter.
With many of us working from home and feeling the pressure of the pandemic and the upcoming holiday season, I encourage you to reach out with thoughts or questions about creating a healthier mindset. Click here to contact me at your convenience or click here to book a complementary call with me.
You can find more information about me and how I can help you live a more authentic and resilient life at RoxanneDerhodge.com
Thank you,
Roxanne
Links:
Codi's websites:  https://www.codishewan.com/ 
https://www.everydaylegacy.com/
Codi's email:  codi@codishewan.com
Roxanne's email:  roxanne@roxannederhodge.com
Book a complementary call with Roxanne
Roxanne's previous podcasts