Creating a Healthy Corporate Culture with Hema Crockett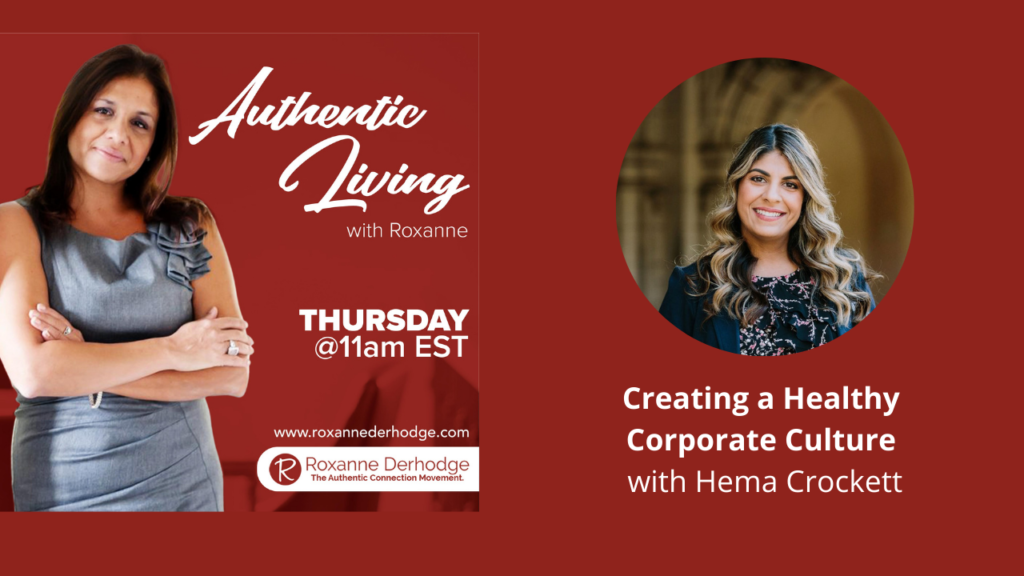 Quote: "The way that we define culture is really thinking about it as the intersections of values, actions and behaviours." Hema Crockett
As we've been moving through the pandemic, there's been a greater demand for a shift in leadership.  Leaders find themselves needing to be more connected to their teams than ever before.  Meeting the needs of their employees in these tumultuous times has been a bigger challenge than it was before COVID started and retaining their top talent is essential.  On this episode of Authentic Living with Roxanne, we welcome Hema Crockett to share her thoughts and strategies on how to develop a healthier corporate culture while leading through a crisis.
Hema is a military spouse, entrepreneur, and recovering HR executive, who worked in the private sector as well as for the DOJ and State Department for 18 years before becoming an entrepreneur. She is the co-founder of Gig Talent, a modern talent collective connecting high-caliber HR consultants and leadership coaches with forward-thinking organizations. 
Listen to the podcast here:
Creating a Healthy Corporate Culture with Hema Crockett
Authentic Touch Points:
How Hema became a "recovering HR executive".  2:00
The building blocks of a healthy culture.  5:00
When leadership roles begin.  8:00
Are you a proactive or reactive leader?  12:00
Leaders from C-suite to the front line.  15:00
Leading through a crisis.  17:00
The Everyday Leader.  19:30
Hema was named a 40 Under 40 Business Leader in 2020 by the San Diego Business Journal. She is a sought-after speaker on a range of topics including entrepreneurship, leadership, organizational culture and finding purpose. Hema's been published in Forbes and Thrive Global, among other publications and her first book, Designing Exceptional Organizational Cultures, was released in February and was Amazon's #1 new HR release. Her forthcoming book, The Everyday Leader, will be released in August 2021. She lives in San Diego with her husband.
With many of us working from home and feeling the pressure of the pandemic, I encourage you to reach out with thoughts or questions about your own self-awareness and creating a healthier mindset through connection.
I have created a new live coaching program to help you Create Healthier and More Authentic Relationships in your life and get more connected to your authentic self. Click here to contact me at your convenience or click here to book a complimentary call with me.
Stay Authentic,         
Roxanne
Links:
Gig Talent
Hema's LinkedIn Profile
HEMA'S BOOKS: 
Designing Exceptional Organizational Cultures: Canada  USA
The Everyday Leader – presale: Canada USA
Roxanne's email: roxanne@roxannederhodge.com
Book a complementary Call with Roxanne
Roxanne's previous podcasts