Transitioning to a Happier and More Authentic Life with ClaireYvonne Naisbitt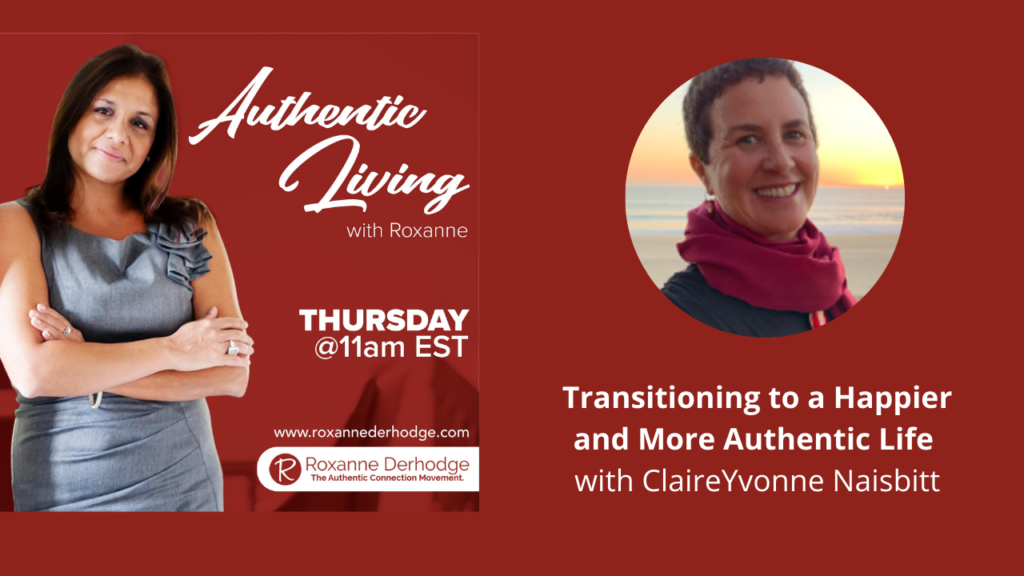 Authentic Life Quote: "I didn't allow the space in my brain for my creative side…it was lovely to discover it." ClaireYvonne Naisbitt
Do you ever have the urge to just throw in the towel and create a whole new life for yourself?  Change from a high stress, fast paced world to one where you can slow down, enjoy an authentic life and feel more fulfilled?  Well, our guest on Authentic Living with Roxanne did just that!  Today we welcome ClaireYvonne Naisbitt who will share her journey from corporate leader to coach and how she created a much happier and more authentic life.
Before Coaching, Claire was a Senior Level Leader in the oil and gas industry for over 20 years, where she was responsible for leading teams to solve and deliver complex technical work. She understands the challenges of working in a fast paced, male dominated, demanding technical workplace and has always been drawn to getting the best out of people teams, as Team Lead and through organisational design.
Listen to the podcast here:
Authentic Touch Points:
ClaireYvonne's "Healing Soulbbatical". 4:00
From Geologist to Coaching. 8:00
Finding space for the creative side. 10:30
Looking beyond the bottom line. 13:30
Taking the time to slow down. 15:30
Listening to the universe. 20:30
Everyone must take time to heal and process. 25:00
ClaireYvonne is a transition pro having changed her whole life in less than 2 years. She loves deep personal work so she can serve her clients powerfully and go wherever they need and want to go. ClaireYvonne thrives in the land of duality, where we can have humour and be serious, be artistic and scientists, introverted and extroverted, celebrating and integrating our unique wholeness. ClaireYvonne's clients love being in her vibrant energy and are inspired to transition into powerful leaders, live empowered lives and have successful and fulfilling careers.
With many of us working from home and feeling the pressure of the pandemic, I encourage you to reach out with thoughts or questions about creating a healthier mindset.
I have created a new live coaching program to help you Create Healthier and More Authentic Relationships in your life. Click here to contact me at your convenience or click here to book a complementary call with me.
Stay Authentic,
Roxanne
Links:
ClaireYvonne's website: www.brightcatalyst.net
ClaireYvonne's email: Clairehayward@brightcatalyst.net
ClaireYvonne's Linkedin link: https://www.linkedin.com/in/theexecutivecoach/
Soulbbatical: https://www.amazon.ca/Soulbbatical-Corporate-Rebels-Guide-Finding/dp/1982131330
Roxanne's NEW Create Authentic Relationships course
Roxanne's email: roxanne@roxannederhodge.com
Book a complementary Call with Roxanne
Roxanne's previous podcasts