Guiding Leaders to Stay Resilient Through COVID and Beyond with Leadership Expert, Cate Collins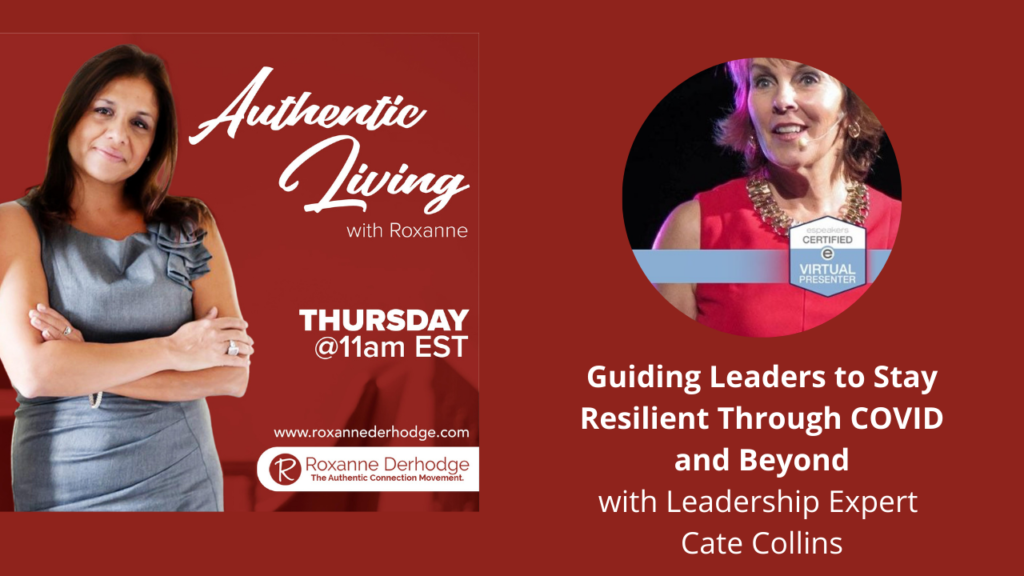 As we continue to work and lead through the pandemic, we all run the risk of burning out.  With the added expectations that we place on our leaders, it's no wonder.  Keeping morale up, retaining great employees and navigating through the constant changes that have been expected for the past six months can lead to extreme fatigue and more.  On this episode of Authentic Living with Roxanne we welcome Leadership Expert, Cate Collins who will share her insights on how leaders can demonstrate self-care to avoid burnout.
Cate Collins is the CEO of Powerful Journey Consulting. She is a former burned out leader with an extensive counseling background who lost her way some years ago. Her mission is to be a guide to support leaders and their teams to be more resilient, courageous and confident by rediscovering the powerhouse within them. She has been facilitating transformative leadership and team retreats for over 15 years.
Listen to the podcast here:
Authentic Touch Points:
It all starts with the leader. 4:00
The wear and tear on our leaders. 7:30
The Four Rooms. 12:00
The foundation…what brings you joy? 21:30
Playing referee and finding the triggers. 25:00
Should we hold leaders to a higher standard? 29:00
Where leaders deplete first. 32:30
H-A-L-T 34:00
Cate's keynotes, training and coaching truly connect with her audiences at a heart level because of her authentic, playful and high impact strategies. Her four rooms framework has travelled the globe as she has worked with senior leaders and their teams including the US Army, Ontario Shores Mental Health Centre, international Associations, Ministry of Transportation, not-for-profits and many other organizations. Cate's "The Powerhouse in You: How to Lead with greater Resilience, Courage and Confidence" book will be released October 22. 2020.
With many of us working from home and feeling the pressure of the pandemic, I encourage you to reach out with thoughts or questions about creating a healthier mindset. Click here to contact me at your convenience or click here to book a complementary call with me.
You can find more information about me and how I can help you live a more authentic and resilient life at RoxanneDerhodge.com
Thank you,
Roxanne
Links:
Cate's website
Cate's meditation
Roxanne's email: roxanne@roxannederhodge.com
Book a complementary call with Roxanne
Roxanne's previous podcasts