From Trauma to Resiliency – Rising Up with Carob Mars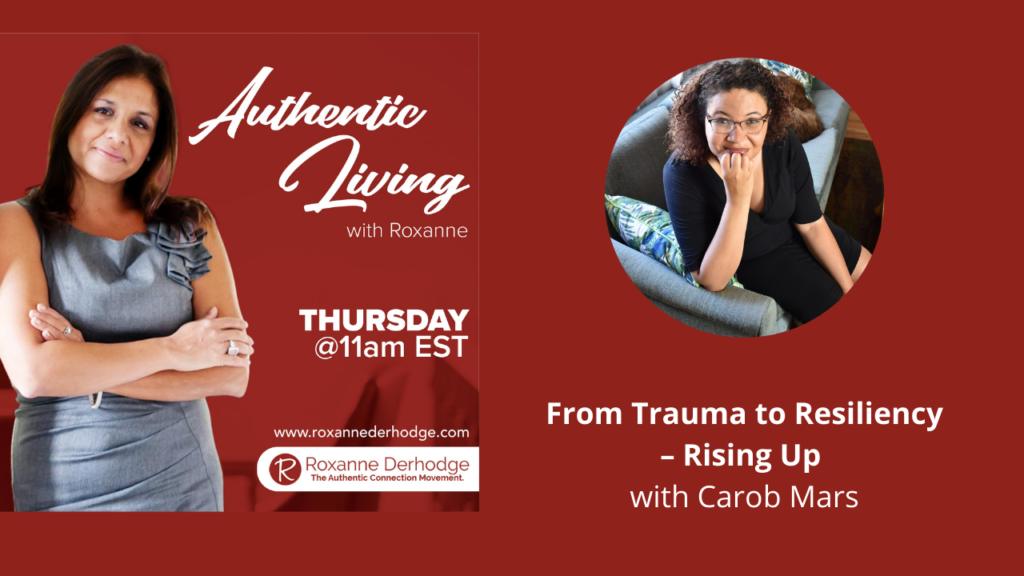 We talk a lot about resilience and how to move forward when life throws us a curve ball. My guest today is the living embodiment of what resilience truly is. On this episode of Authentic Living with Roxanne, we welcome Carob Mars who is a former foster child and despite the odds has found her way to happiness.
Carob is a veteran of the foster system, who despite many obstacles has found her way to Happy. On her new blog, podcast and YouTube channel, she shares practical, doable ideas and stories to help you too, put your past behind you, Rise Up! and succeed at life on your terms.
Watch the podcast here:
Authentic Touch Points:
Carob's journey through the foster care system. 2:30
The impact of trauma as a young child. 6:00
How to keep moving forward. 10:00
Learning to give to yourself. 18:00
Finding your support system. 22:30
Don't let trauma define you. 26:00
There's no "right way" to recover. 31:30
The past is gone… 34:00
A survivor of every kind of abuse, Carob walked to her local police station at just 8 years old and started the foster care process. She was never adopted and aged out at 18 years of age. Over the years Carob has overcome many obstacles to create her own slice of a modest "good life" and believes that we are all capable of thriving and finding happiness. She created the platform 'Age Out Rise Up" to reach out to former fosters of all ages and encourage them to move past their bad histories and choose to rise!
With many of us working from home and spending most of our time with family, I encourage you to reach out with thoughts or questions about creating a healthier mindset. Click here to contact me at your convenience or click the link below to book a call with me.
You will also find more information about me and how I can help you at RoxanneDerhodge.com.
Thank you,
Roxanne
Links:
Carob's website
Carob's podcast
Carob's YouTube Channel
Roxanne's email: roxanne@roxannederhodge.com
Book a call with Roxanne
Roxanne's previous podcasts