Creating Resilience in Times of Crisis and Uncertainty with Clint Adams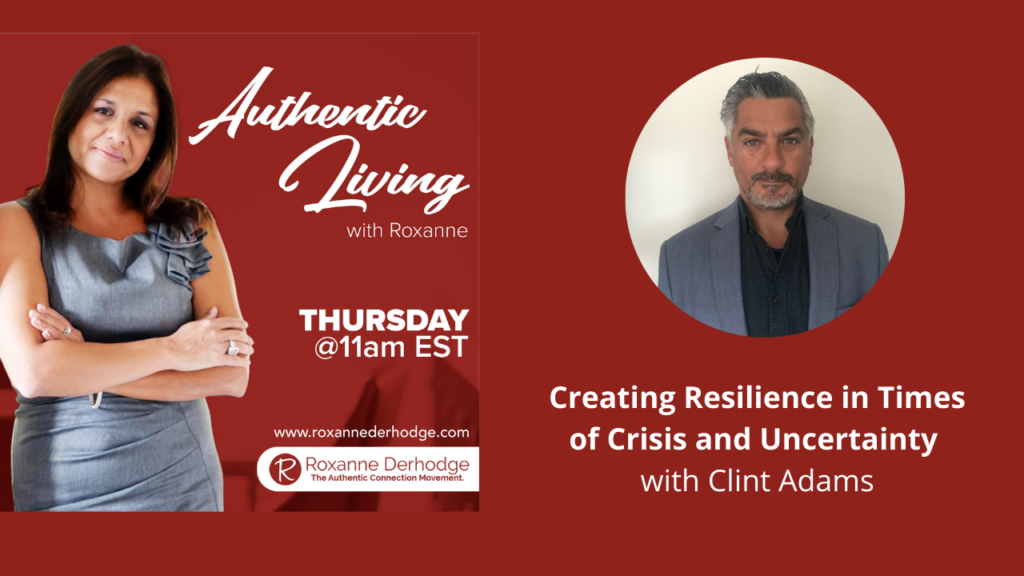 Quote: "When people change the focus on where they want to get to, what they want to do, things work for them."  Clint Adams
As we keep plodding along through the pandemic some have been more negatively affected by it than others but make no mistake…it has touched pretty much everyone in one way or another. On this episode of Authentic Living with Roxanne, we welcome Resiliency Expert, Clint Adams to talk about how we can all find the motivation to create our own resilience.
Clint is a former Victorian police officer who studied psychology and later, Rehabilitation Counselling. His police, counselling, injury management, senior HR roles and working with asylum seekers have made him develop insights into the psychology and social interactions of individuals in trying conditions.  He has developed various behavioural and leadership programs to help people deal with various issues from PTSD to bullying and harassment. 
Listen to the podcast here:
Authentic Touch Points:
Clint's journey from cop to counsellor.  1:45
Teaching resilience during crisis.  9:30
Why we need to learn resilience in adolescence.  17:00
Finding your motivation to be mindful.  25:00
Guidance for anyone struggling.  30:30
Clint is a keynote speaker on Suicide Prevention and Diversity and runs programs on mental health and wellbeing for corporate organizations and organizations for teens.  He is the author of a book called Lighting the Blue Flame, which is also aimed at suicide prevention and developing resilience in both children and adults.  Blue Flame Projects is a consultancy firm which helps organisations, and individuals improve their mental health, increase their leadership and enhance their teamwork.
With many of us working from home and feeling the pressure of the pandemic, I encourage you to reach out with thoughts or questions about creating a healthier mindset.
I have created a new live coaching program to help you Create Healthier and More Authentic Relationships in your life. Click here to contact me at your convenience or click here to book a complementary call with me.
Thank you,
Roxanne
Links:
Clint's website
Clint's book
Roxanne's NEW Create Authentic Relationships course
Roxanne's email:  roxanne@roxannederhodge.com
Book a complementary Call with Roxanne
Roxanne's previous podcasts